Kerry gives his support to Biden because he is the president that the US "desperately needs"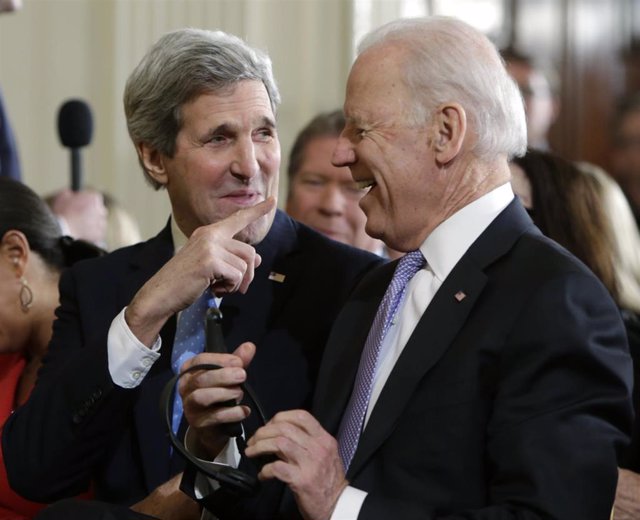 John Kerry and Joe Biden – REUTERS / GARY CAMERON – Archive
WASHINGTON, Dec. 5 (EUROPE PRESS) –
Former Secretary of State John Kerry announced Thursday his support for former Vice President Joe Biden in the Democratic race towards the White House because he is the president that the United States "desperately needs right now."
"I think Joe Biden is the president that our country desperately needs right now, not because I have known him for a long time, but because I know him well," Kerry said in a statement released by the Biden campaign team.
"Never before have I seen the world most in need of someone who from the first day can start the incredibly difficult work of bringing the world that Donald Trump has shattered together again," he said.
Kerry has defined Biden as "the candidate with the wisdom and ability to fix what Trump has broken, to regain our place in the world and to improve the lives of working people."
In addition, it has brought to light what, for now, is the main asset of the Democratic candidate to win the presidential nomination. "He is the only one who can defeat Trump," he said, CBS reports.
The former head of US diplomacy has advanced that will accompany Biden in the electoral events he has planned for Friday in Iowa and Sunday in New Hampshire, two states where Kerry won the 2014 caucuses in the Democratic primary.
Kerry and Biden have worked together in the Senate and, in their last stage, they were part of the Government of Barack Obama, the first as secretary of state and the second as vice president.
Biden is one of the best positioned Democratic candidates, although Mayor Pete Buttigieg – who is aligned with Biden in the so-called conservatives – and Senators Elizabeth Warren and Bernie Sanders, the progressive nicknames, also stand out.