Kate Spade: 'Fashion can't feel like a costume'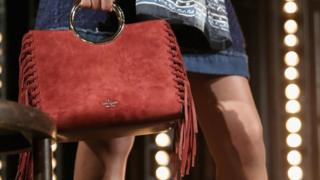 The rise of American fashion designer Kate Spade, who turned her name into a global brand, reads like a classic American tale of a self-made businesswoman.
She and her future husband built the accessories firm from their apartment, tapping into retirement savings to get a start.
They would later sell the company and start again.
Raised in Missouri as Kate Brosnahan, Ms Spade attended an all-girls Catholic high school and Arizona State University.
It was there that she met her future husband Andy Spade, brother of the Hollywood comedian David, working in a clothing store.
They moved to New York, where she worked in advertising and as a fashion editor at Mademoiselle magazine before striking out on her own.
In interviews, the businesswoman often said she was inspired to start her own company by her dislike of other handbags of the era and a desire for a more basic look.
"I thought, gosh, I mean, why can't we find something just clean and simple and modern?" she told NPR earlier this year.
To Ms Spade, who had a well-stocked purse collection before making a career out of it, clean did not have to mean boring.
Reds and shocking pinks filled out the palette of the firm's boxy nylon and leather totes, which drew the eye of a buyer from upmarket New York department store Barney's at an early trade show and quickly became a coveted status symbol among a certain preppy set.
In 1999, when Neiman Marcus took a 56% stake, it paid more than $30m for the company, which eventually branched out to other accessories, including kitten heels and stationery.
Kate Spade shares a sensibility with lines like Lilly Pulitzer and Tory Burch, American companies whose female founders gave them their name.
But the designer cultivated an image distinct from European fashion houses like Valentino and Chanel.
"Fashion can't feel like a costume." she said in an interview with the Boston Globe in 1999.
She once told Vogue that the brand was "not intimidating" – although it does keep elite company, with the Duchess of Cambridge among the firm's many customers.
In 2006, the family announced they would sell their stake in their company.
In retrospect, the moment looks like the end of an era – just before online shopping, the financial crisis, private equity owners and shifting fashions would put the entire retail industry on the back foot.
Undaunted by the changes, the couple announced a new line, Frances Valentine, about a decade later.
Ms Spade, who sometimes described herself as a nervous person, acknowledged the high stakes of that decision in an interview with NPR.
"There's still a lot of pressure, trust me," she said.