Kanye West's listening party for his new album Ye was VERY Kanye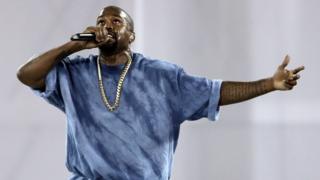 Welcome to Jackson Hole, Wyoming.
The tourist guide describes it as "a place where you can go days without seeing another soul… filled with wildlife, wild folks and even a guy called wild Bill."
Well Bill just got some new mates.
Because last night, Kanye West invited a host of hip-hip royalty (and a few Kardashians) to the "mountain town unlike anything else" to listen Kanye's new album YE. The rest of us picked it apart via live stream.
Why Wyoming?
Kanye is known for being secretive with new music and not having traditional first plays.
Ahead of the release of 2007 Graduation, he carried a laptop containing the only-known copies of the songs into the BBC by hand to make sure nobody else could hear them.
For his last album, The Life of Pablo, he held a fashion show in New York's Madison Square Garden which was streamed to cinemas around the world.
With that in mind, a chalet in a remote ski resort was the ideal place to work on the follow-up.
Well, until everyone rumoured to be involved in YE started posting pictures of themselves in salopettes…
Kid Cudi and Nas who has new Kanye-produced album coming this year were among the first to arrive…
Then Travis Scott rocked up…
Rappers The Dream and King Louie popped by too. They even tagged the location.
With it being the base for the album, it made sense to have it's first play in Wyoming.
Who was there?
After two and a half hours of a holding screen featuring a roaring fire, the live stream revealed a couple of hundred people huddled around campfires toasting marshmallows.
Pusha T, Nas, Fabulous, Big Sean and Jonah Hill (yes, the actor) were all in the crowd.
BBC Radio 1Xtra's Semtex and Radio 1's Charlie Sloth was also there and found time to top up his Instagram account.
Once the mingling was done, Chris Rock introduced "the latest, the greatest – Kanye West".
The rapper emerged grinning in a luminous yellow jumper and danced through the crowd while YE was played in full, twice… obviously.
What did we learn about the album?
Lots of the basics.
It's called YE, it's seven tracks long and features Ty Dolla Sign, Jeremih, Young Thug, Charlie Wilson, and what seems to be a voicemail sample from Nicki Minaj and Kid Cudi.
He also makes several reference to his mental health including the opening lines of the album: "Most beautiful thoughts are always beside the darkest.
"Today I seriously thought about killing you, I contemplated it, pre-meditated murder.
"And I think about killing myself and I love myself way more than I love you, so."
Later in the album, he raps: "That's my bipolar… that's not a disability that's my superpower".
He also refers to his recent TMZ interview when he suggested slavery was "a choice" with the lines: "I say slavery a choice, they say how Ye. Imagine if they caught me on a wild day."
The album, which on first listen doesn't deviate too far from the production style of The Life of Pablo, is now available on streaming sites.
The cover shows a mountain range with a handwritten note saying: "I hate being bi-polar. It's awesome."
Follow Newsbeat on Instagram, Facebook and Twitter.
Listen to Newsbeat live at 12:45 and 17:45 every weekday on BBC Radio 1 and 1Xtra – if you miss us you can listen back here.