Kak Channthy: The Cambodian Space Project and a rock revival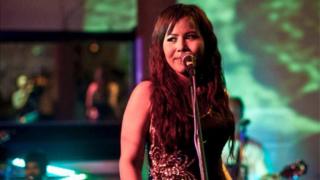 Cambodian singer Kak Channthy rose from poverty to perform in front of audiences worldwide.
Dubbed Cambodia's Amy Winehouse, she was the voice and face of a revival of the legendary 1960s rock scene that swept the country pre-genocide.
Her band, the Cambodian Space Project, became one of the few Cambodian rock bands to make it overseas.
Her death on Tuesday, in a car crash at the age of 38, has moved her fans around the globe.
"She was a Cambodian hero and now, so sadly, a legend of her people and her time," the band's co-founder and ex-husband Julien Poulson told the BBC.
"Her music, her voice, her life and her story have touched so many people from many different walks of life and from all around the word."
Overcoming poverty and hardship
Kak Channthy came from a poor family in rural Cambodia and much of her story is that of the typical journey of a poor girl moving from the countryside to the city.
In Phnom Penh, she worked in a long line of tough jobs, earning in some cases less than a dollar a day.
"I was singing in a karaoke bar but in 2006 I wanted to have a go at singing professionally," she told the BBC in a 2017 interview.
"So I asked the boss of one beer garden to let me sing in front of him. But I was so nervous I dropped the microphone! Fortunately that day the boss accepted me and decided to hire me and I got paid $2 a day."
That's where she was spotted by Australian musician Julien Poulson and the two went on to form Cambodian Space Project.
"Channthy was inspired by the great Cambodian singers of the 1960s," Scott Bywater who played with her in the band as well as on side projects, told the BBC.
"In turn, she has been an inspiration to a new generation of Cambodian singers, excited by her revival of the music of their grandparents."
Reviving Cambodia's golden age
The vibrant rock scene of the 1960s and early 70s is seen as Cambodia's golden age, before the terror of the Khmer Rouge eradicated all modern culture and music.
Most of the famous singers from those days like Ros Serey Sothea, Pan Ron and Sinn Sisamouth died during the brutal genocide between 1975 and 1979 and their music and legacy seemed lost forever.
Only a gradual revival and rediscovery of the music from dusty attics, archives abroad and memory helped to bring that music back from the silence.
Performing a mix of covers and original songs, Cambodian Space Project were at the forefront of a resurgence of pride in that era..
"Cambodian Space Project is certainly a big part of Cambodia's music and cultural revival," Mr Poulson said.
"But Channthy epitomised and embodied all the heartbreak and sorry of Cambodia but also the very nature of survival itself and she overcame great odds to become an underdog champion of the world."
In recent years she also started her own side project Channthy Cha Cha, playing local shows back in Cambodia.
"She had an extraordinary charm and sincerity both on stage and off – you didn't need to know the language to be moved and excited by her singing and her songwriting – and made friends and fans everywhere she went," Mr Bywater recalls.
"I will remember her laughing and dancing, and her delight at what a difference her singing made to those around her. She is a model of female strength and independence to Cambodian and foreigner alike. Our hearts are at half mast."
Her struggle to overcome poverty and hardship to make it to the stages of the world was also the subject of a 2015 documentary Not Easy Rock'n'Roll which premiered at the Sydney Film Festival that year.
"Sometimes I still don't believe that a person from the countryside and with no education can receive a lot of support from all walks of life," she told the BBC last year looking back at her extraordinary story.