Kabul mourns 100 dead after ambulance bomb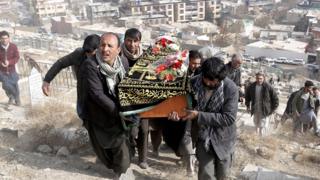 More than 100 people are now known to have been killed in a suicide bombing on Saturday in Kabul.
Attackers drove an ambulance past a police checkpoint to get to a crowded street in a district full of government buildings and embassies.
Afghanistan's government has declared a day of mourning for Sunday, as funerals take place and relatives search hospitals for survivors.
The Taliban – a hardline Islamist group – said it was behind the attack.
It was the deadliest attack in Afghanistan for months and took place a week after an attack on a Kabul hotel in which 22 people were killed.
Who are the Taliban?

Four days behind the Taliban front line
Interior minister Wais Barmak said a number of people died in hospital overnight and the death toll now stood at 103, with 235 wounded. Most of the injured are men.
AFP news agency reports that some foreign organisations are "reassessing their presence" in the country after the spate of attacks.
A local shopkeeper, Mohammad Hanif, told Reuters agency: "How are we to live? Where should we go?
"We have no security, we don't have proper government, what should we do?"
What happened in the latest attack?
Witnesses say the area – also home to offices of the European Union, a hospital and a shopping zone known as Chicken Street – was crowded with people when the bomb exploded on Saturday at about 12:15 local time (08:45 GMT).
Nasrat Rahimi, deputy spokesperson for the Interior Ministry, said the attacker got through a security checkpoint after telling police he was taking a patient to nearby Jamhuriat hospital.
He detonated the bomb at a second checkpoint, said Mr Rahimi.
The International Committee of the Red Cross said the use of an ambulance was "harrowing".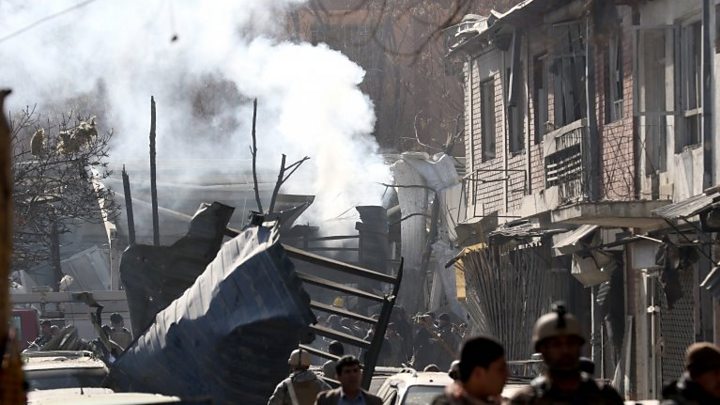 A Taliban spokesman later linked the attack to US efforts to assist Afghan forces with troops and airstrikes.
In a statement, Zabihullah Mujahid said: "If you go ahead with a policy of aggression and speak from the barrel of a gun, don't expect Afghans to grow flowers in response."
What was the response?
The Afghan government has condemned the bombing as a crime against humanity, and accused Pakistan of providing support to the attackers.
The Taliban control large swathes of Afghanistan and parts of neighbouring Pakistan.
Pakistan denies supporting militants that carry out attacks in Afghanistan. This month, the US cut its security aid to Pakistan, saying it had failed to take action against terrorist networks on its soil.
US President Donald Trump condemned the attack and said it "renews our resolve and that of our Afghan partners".
UN Secretary General Antonio Guterres said: "Indiscriminate attacks against civilians are a serious violation of human rights and humanitarian laws, and can never be justified."
In France, the Eiffel Tower turned off its lights at midnight on Saturday as a mark of respect for the dead and injured.
Paris Mayor Anne Hidalgo wrote on Twitter: "The city of Paris and Parisians are with the Afghan people who are once again facing terrorist barbarity," she said.
How does it compare to other recent attacks?
The attack is the deadliest in Kabul in several months.
In October, 176 people were killed in bomb attacks across Afghanistan in one week. The country's security forces in particular have suffered heavy casualties at the hands of the Taliban, who want to re-impose their strict version of Islamic law in the country.
In May, 150 people were killed by a suicide bomb attack in Kabul. The Taliban denied any role, but the Afghan government says its affiliate, the Haqqani group, carried it out with support from Pakistan.
Who are the Taliban?
The

hardline Islamic Taliban movement

swept to power in Afghanistan in 1996 after the civil war which followed the Soviet-Afghan war, and were ousted by the US-led invasion five years later, but returned to run some key areas
In power, they imposed a brutal version of Sharia law, such as public executions and amputations, and banned women from public life
Men had to grow beards and women to wear the all-covering burka; television, music and cinema were banned
They sheltered al-Qaeda leaders before and after being ousted – since then they have fought a bloody insurgency which continues today

In 2016, Afghan civilian casualties hit a new high

– a rise attributed by the UN largely to the Taliban
Civilian casualties remained at high levels in 2017, the UN said