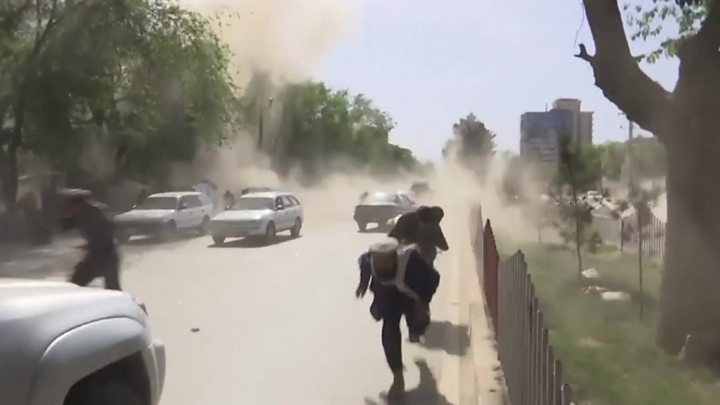 At least 25 people have been killed in two bombings in the Afghan capital Kabul, including several journalists documenting the scene.
AFP chief photographer in Kabul, Shah Marai, is among the victims.
The first explosion was carried out by an attacker on a motorbike. A second followed about 15 minutes later after a crowd, including several reporters, had gathered at the scene.
Kabul bombings: Photographer Shah Marai among 25 dead
The Islamic State group (IS) said it had carried out the attack.
In a tweet, the AFP news agency said the second blast had deliberately targeted the group of journalists.
"The bomber disguised himself as a journalist and detonated himself among the crowd," AFP quoted a police spokesman as saying.
At least eight journalists and four police officers were among the dead, interior minister spokesperson Najib Danish told the BBC. So far, 45 people have been reported injured.
The intelligence services headquarters had been the target, IS said in a statement released through its self-styled news outlet Amaq.
The Shashdarak district also houses the defence ministry and a Nato compound.
Remembering Shah Marai
By Mahfouz Zubaide, BBC News
Shah Marai started work as a driver with AFP in the 1990s, during the era of the Taliban.
His interest in the world, his curiosity and love for photography resulted in AFP sending him to France for training.
When he came back, he turned his wonderful eye to capturing moments of humanity during the most shocking ordeals of his city, Kabul.
One of his most iconic photographs was from an attack on a Shia mosque last year: a picture of a child just standing stunned with police pointing at him to leave the mosque because the attacker was still inside. But the child was looking for his father.
Throughout it all Shah Marai was calm, smiling and positive. He was never scared of danger.
But he was deeply affected when his good friend and fellow journalist Sardar Ahmad was murdered a few years ago in another Kabul attack at the Serena hotel.
I have known Shah Marai since I was a child and we found ourselves both working for the media here in Kabul, always meeting at the sites of tragedy.
He was also a friend to many others in Kabul's journalistic community and we are all mourning him now.
AFP paid tribute to Shah Marai, who it said had six children, including one newborn.
"This is a devastating blow," global news director Michele Leridon said.
"We can only honour the extraordinary strength, courage and generosity of a photographer who covered often traumatic, horrific events with sensitivity and consummate professionalism."
Bombings in the Afghan capital are not uncommon.
Earlier in April, a suicide bomb at a voter registration killed almost 60 people and injured 119, in an attack claimed by the Islamic State group.
The Taliban also remain active in the country, only 30% of which is under full government control, according to BBC research published earlier this year.
Separately on Monday, a suicide bomb attack in the Kandahar region killed 11 schoolchildren and injured many more. Nato forces operate from a base in the area, and Tolo News reported that the bomb was detonated near a convoy of Romanian soldiers.
No group has yet said it carried out the Kandahar attack.