K-Pop: G-Dragon is getting too many letters while on military service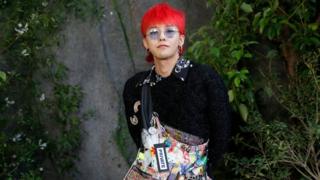 Fans of K-Pop boyband member G-Dragon have been asked to stop sending fan mail to the army base where he's doing military service.
The camp where he is working has run out of paper because it's had to print all the emails sent to the superstar, says his management company.
"G-Dragon is facing difficulties with fans sending too many letters to the unit," said YG Entertainment.
"Please refrain from sending letters and we will appreciate it."
In South Korea, all male citizens aged 18 to 35 have to carry out two years of military service.
G-Dragon, 29, who is a a member of Big Bang, enlisted in the army on 27 February and fans have been sending him letters of support ever since.
But it's causing problems at the camp because other soldiers can't get their letters.
"Emails have to be printed out on paper to be distributed to the soldiers, but ink and A4 paper in the battalion have run out and G-Dragon feels sorry for his fellow soldiers there," said YG Entertainment, according to a translation in The Korea Times.
"G-Dragon is thankful for his fans' concern over his military duty. At the same time, he feels sorry he can't read all the letters sent to him. But again, please consider the tricky situation."
Some fans have been quick to respond saying G-Dragon's privacy needs to be respected.
Skip Twitter post by @nariji21
Please fans respect Kwon Jiyong.

He enlists as Kwon Jiyong not as G DRAGON.

He want privacy. And please respect Korean military. They have a lot of to do.

They don't have time to mind all that fans letters and call.

Please be a good fans for him.

😥😥😥😥 https://t.co/IyckgnwU6Y

— Sexy Boy – Riri ♡🐼 (@nariji21) March 10, 2018
End of Twitter post by @nariji21
Skip Twitter post by @Fiery_Abyss_
Being a supportive fan is great but GD isn't the only one in his unit. It's not fair to everyone else or GD with the huge influx of letters.

— Ivory Blue 🍀 (@Fiery_Abyss_) March 10, 2018
End of Twitter post by @Fiery_Abyss_
Skip Twitter post by @gemyonchy
This is why he wanted to enlist privately and the letters are meant as a communication for his family and friends, I hope fans knows their boundaries and not send as it's affecting his stay in the army. Respect his privacy people. pic.twitter.com/NZhobowki5

— only bigbang (@gemyonchy) March 10, 2018
End of Twitter post by @gemyonchy
Follow Newsbeat on Instagram, Facebook and Twitter.
Listen to Newsbeat live at 12:45 and 17:45 every weekday on BBC Radio 1 and 1Xtra – if you miss us you can listen back here.