Justin Langer named new Australia coach, replacing Darren Lehmann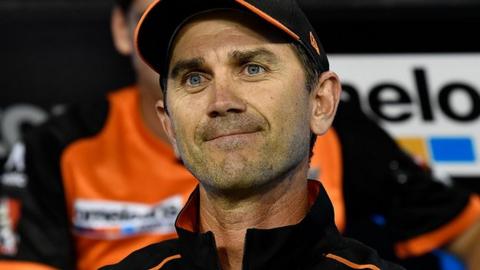 Justin Langer has been named as Australia's new head coach, replacing Darren Lehmann, who resigned in the wake of the ball-tampering scandal.
The former opener, currently in charge of Western Australia and Perth Scorchers, has signed a four-year deal.
Lehmann played no part in the ball-tampering plot on Australia's tour of South Africa in March.
He initially declared his intention to carry on as coach, only to resign before the fourth and final Test.
Captain Steve Smith and vice-captain David Warner were sacked and banned for a year for their part in the controversy, while batsman Cameron Bancroft was suspended for nine months.
Lehmann, who took charge in 2013, had previously announced that he would step down after the Ashes in England in 2019.
And chief executive James Sutherland said that Cricket Australia has planned his replacement with a "succession plan in place for this role for some time".
"The plan has allowed us to consider several worthy candidates, but Justin was the clear standout, particularly based on his recent coaching and player development achievements," said Sutherland.
"We firmly believe Justin is the right person to lead this team and have huge confidence in what he will bring to the role."
A left-handed batsman, Langer played 105 Tests for Australia, scoring 7,696 runs.
He retired from international cricket in 2007 at the end of a 5-0 Ashes series victory.
The 47-year-old has led the Scorchers to three Big Bash titles and Western Australia to two domestic 50-over crowns.
Langer, who has had spells in county cricket with Middlesex and Somerset, has also had a three-year spell as Australia assistant coach and twice been head coach on an interim basis.
"I am very excited about the scope I now have to coach the country that supported me so much in my cricketing career," he said.
"There will be some significant challenges ahead for our group, but there is a wealth of talent in Australian cricket that I know will do us all proud.
"I'm thoroughly looking forward to working with all players, as we strive for a successful men's team across all formats, with the support and respect of the Australian public."
Langer's first assignment will be a tour of England, with five one-day internationals and a sole Twenty20 beginning on 13 June.