Juncker says goodbye calling to "take care" of Europe and "fight against the stupid nationalisms"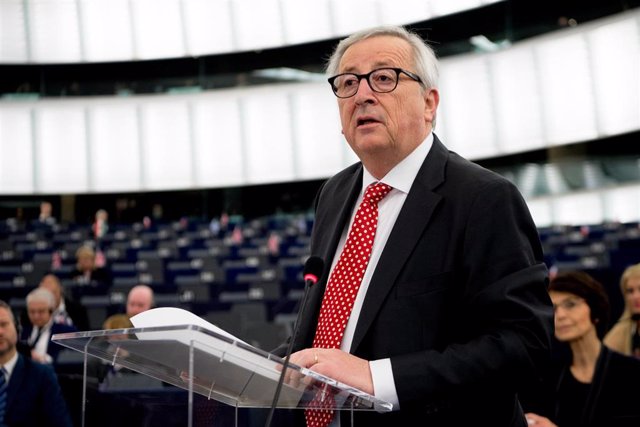 Jean-Claude Juncker in the Eurochamber – Etienne Ansotte / European Commiss / DPA – Archive
BRUSSELS, Oct. 22 (EUROPE PRESS) –
The still president of the European Commission, Jean-Claude Juncker, has said goodbye to the European Parliament on Tuesday making a call to "take care" of Europe and to "fight stupid and closed nationalisms with all forces".
"Take care of Europe and fight stupid and closed nationalisms with all your strength. Long live Europe!", The Luxembourg stressed at the end of his speech to the European Parliament in the debate to take stock of his management at the head of the European Commission during the Last five years.
The head of the Community Executive said that he will leave his post "neither sad nor happy", but "with the feeling" that he was employed "thoroughly". Juncker's term was to end on October 30, but it will finally be extended until at least December 1 due to the difficulties his successor, Ursula von der Leyen, is encountering to form his team of commissioners.
In any case, the Luxembourgian has confessed "proud" of having been a "small element" in a "much larger set" and has warned MEPs of the "irreversible trend" that will make the block at the end of this century You have lost much of your current demographic and economic weight.
"It is an irreversible trend and whoever thinks that justifies that there is less Europe, that we fall back to our national dimension, is making mistakes and making a serious mistake. Europe can alleviate this decline in influence," he said.
Juncker, who has given words of thanks to the president of the European Council, Donald Tusk, and his team of commissioners for their work in these five years, has recognized some "disappointments" throughout his term, but also a series of "successes ".
In the first group, he highlighted the absence of progress with regard to the reunification of Cyprus, that it has not been possible to conclude a new treaty with Switzerland and that the Banking Union has not been completed. "If we do not complete the Banking Union, we will not be prepared to react to the next crises, whether they are internal or if they come from abroad," he said.
Among the successes, Juncker has mentioned the approval of the European Pillar of Social Rights, that "dignity" has been "returned" to the Greek people, which in his opinion had been "trampled", and economic achievements in terms of job creation .
He has also praised the "flexibility" in the application of European tax rules, from which countries such as Spain, Italy or Portugal have benefited, the investments mobilized through the so-called 'Juncker plan' and the conclusion of a fortnight of agreements free trade.
With regard to the management of migration flows, Juncker has pointed out that "it could have been better" if the Member States had accepted the proposals of the European Commission to reform asylum rules and establish a permanent refugee relocation system. Even so, he stressed that "thanks to Europe" many lives have been saved in the Mediterranean.