Juncker offers Johnson to "immediately" start negotiating the future relationship if the agreement is confirmed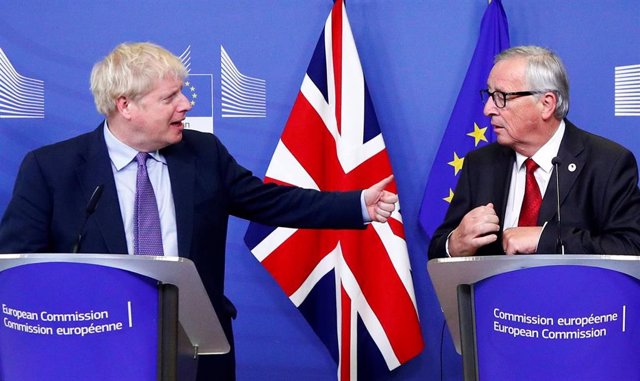 Boris Johnson and Jean-Claude Juncker – REUTERS / FRANCOIS LENOIR
BRUSSELS, Oct. 17 (EUROPE PRESS) –
The president of the European Commission, Jean-Claude Juncker, has offered this Thursday to British Prime Minister Boris Johnson to begin negotiating the framework of future relations between the European Union and the United Kingdom as a third country "immediately" after the Brexit agreement is finally approved.
"It is up to the two Parliaments (British and European) to say the last word," Juncker warned in an appearance without questions accompanied by Johnson, who has arrived in Brussels to participate in the European summit where leaders are expected to give Your approval of the text.
The agreement for an orderly Brexit at the end of the month still needs the approval of the leaders, the EU Council and ratifications in Westminster and Strasbourg, although the two sides are confident that they will be able to complete this process in days.
That is why Juncker has said that after closing this "fair and balanced" agreement, which allows "no type of extension" to be necessary, the EU and the United Kingdom can now think about the future and focus their efforts on the framework of the future relationship.
"We will begin talks on future relations immediately after the agreement is approved. We will begin our discussions on November 1, without interruption," the former Luxembourg Prime Minister promised.
The head of the Community Executive, who defined as "excellent" his relations with the British "premier" in recent weeks ", also wanted to point out that he is satisfied by the exit agreement reached, but" sad "by the departure of the Kingdom United.
Johnson, on the other hand, has been exultant because the negotiators in Brussels and London have managed to close a legal text that replaces the Irish safeguard initially designed by another system with the same guarantees regarding the protection of the Single Market and the border without controls between the two irlandas.
"This agreement means for us, United Kingdom, that we will be able to carry out a real Brexit, which meets our objectives," which is why it has urged the House of Commons to "unite to fulfill" Brexit "without further delay."
The Briton has also been willing to work "in the coming weeks and months" with the European Union to "build our future relationship", because it will be "incredibly positive" for both parties.