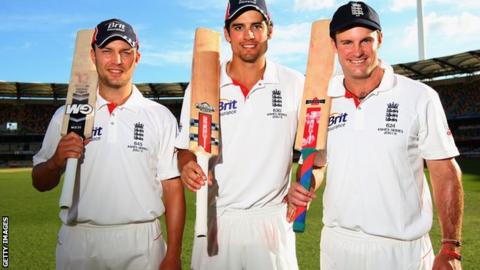 Former England batsman Jonathan Trott is to retire at the end of the season.
The 37-year-old, who has spent his whole county career at Warwickshire, played 52 Test matches before retiring from international cricket in 2015.
Trott has scored 17,750 runs in 269 first-class games at an average of 43.93, with 44 hundreds.
Jonathan Trott: Warwickshire and former England batsman to retire at end of campaign
"Choosing to retire at the end of the season is something that I have spoken about at length with my family," Trott told the club website.
"This is now the right time to look at the next chapter of my career," he added.
Trott, who was born in South Africa, made a century on his Test debut against Australia in the final Test of the 2009 Ashes series at The Oval, helping the hosts to win the series 2-1.
He went on to win another two Ashes series and was part of the side that reached the top of the world rankings in 2011.
His 329-run stand with Alastair Cook during the 2010 Ashes Test in Brisbane is the highest by an England pairing in Tests in Australia.
Trott was also named the International Cricket Council player of the year in 2011 after scoring 1,042 runs at an average of 65.12 during the 12-month period.
He left England's Ashes tour of 2013-14 with a long-standing stress-related condition, but returned 18 months later for the Test series in the West Indies.
After managing 72 runs in six innings, he retired from England duty having scored 3,835 Test runs at an average of 44.08, and 2,819 ODI runs at 51.25.
Ashley Giles, sport director at Warwickshire, said Trott would be remembered as one the greatest batsmen to have played for Warwickshire and England in the 21st Century.
"He made an immediate impact upon arrival at Edgbaston by scoring such a high volume of runs, and he has gone on to be part of one of the most successful periods in the club's history, with five major trophies won across all formats," the former England spinner added.
"At international level, he played a major role in one of the best England teams of the last 50 years; a team that went top of the world rankings, but which also won the Ashes in Australia for the first time in 25 years.
"He's a Bear through and through."