Johnson repeats to Von der Leyen that he will not ask for an extension of the Brexit transition period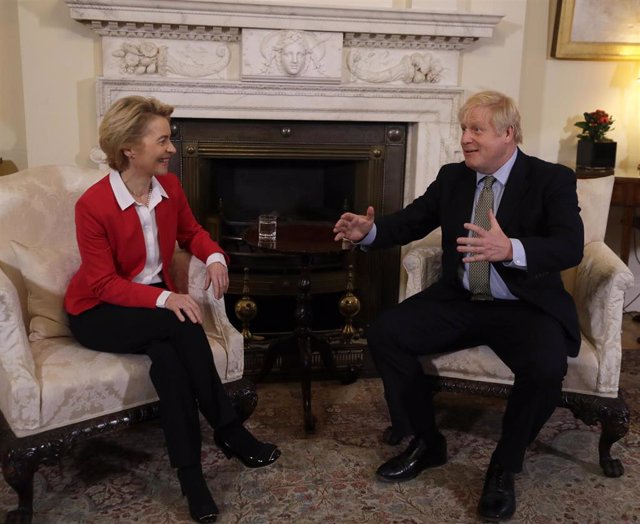 The President of the European Commission, Ursula von der Leyen, and the Prime Minister of the United Kingdom, Boris Johnson – Kirsty Wigglesworth / PA Wire / dpa
BRUSSELS, Jan. 8 (EUROPE PRESS) –
The Prime Minister of the United Kingdom, Boris Johnson, has moved this Wednesday to the President of the European Commission, Ursula von der Leyen, who will not request an extension of the Brexit transition period beyond the end of 2020, a spokesman said Downing Street at the end of the meeting that both leaders have had in Brussels.
The British Prime Minister was "clear" on this issue and also on London's wish that "any future relationship" between the two parties should not assume that the United Kingdom falls under the jurisdiction of the Court of Justice of the European Union (TEU).
The British Government, Johnson said to the German, is "prepared" to begin negotiations on the future relationship and "a free trade agreement in the style of Canada" as soon as possible once Brexit is consumed later this month.
In addition, he recalled that London intends to conclude a "broad" agreement that covers both goods and services and the terms of cooperation in other areas. In addition, it has guaranteed that the United Kingdom will continue to guarantee "high standards" in fields such as labor, animal welfare, agriculture or the environment.
In any case, Johnson has emphasized at the meeting that his "immediate" priority is to complete the process so that London can finally leave the community bloc on January 31 and both have been updated on the ratification procedures on both sides of the La Canal. Stain.
Before the meeting, the German conservative had expressed in a speech given at the London School of Economics that it will not be possible to conclude in nine months an agreement on the future relationship that is ambitious.
"Without an extension of the transitional period beyond 2020 you cannot expect agreement on all aspects of our new relationship. We will have to prioritize," said Von der Leyen, who has also warned that the future relationship "cannot and will not be the same as before "because" each decision has its consequence "and its" counterpart ".
"Without the freedom of movement you cannot have capital, goods and services. Without equal conditions in the environment, work, taxes and state aid, you cannot have the highest quality access to the world's largest single market," has warned.
Von der Leyen has ensured that the EU is also "prepared" to design a new partnership without tariffs, quotas and unfair practices that goes "beyond trade" and has an "unprecedented" scope.
"From climate action to data protection, from fishing to energy, from transport to space, from financial services to security. We are ready to work day and night to get everything possible in the time frame that we have, "he stressed.