Johnson attacks 'horrendous' Rohingya conditions
More than a million are living in crowded and unsafe refugee camps after fleeing violence last year in Buddhist-majority Myanmar, formerly known as Burma.
The military and militias have driven out many from the Rohingya minority during a campaign of killings, burning and rape which the UN says amounts to ethnic cleansing.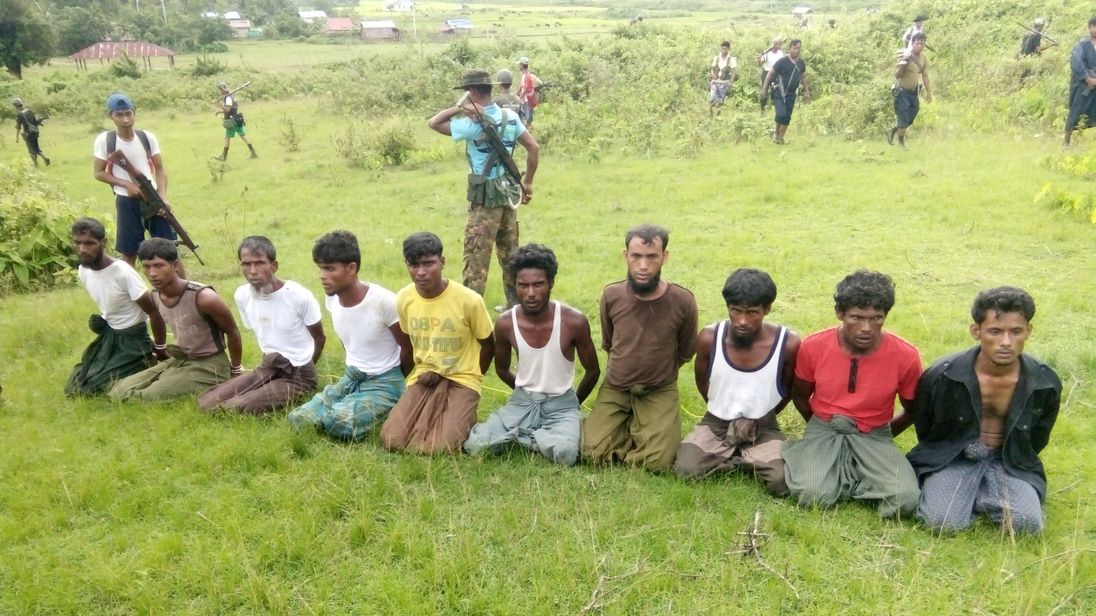 In a humanitarian visit, Foreign Secretary Mr Johnson toured Cox's Bazar, which is home to more than 500,000 refugees – equivalent to the population of Manchester – and spoke to families and community leaders.
On Sunday, he is scheduled to have talks with Myanmar leader Aung San Suu Kyi to press for the end to the suffering and encourage the safe and voluntary return of the refugees to Rakhine state.
::Behind the Headline podcast – Sky reporter Ashish Joshi recalls Rohingya horror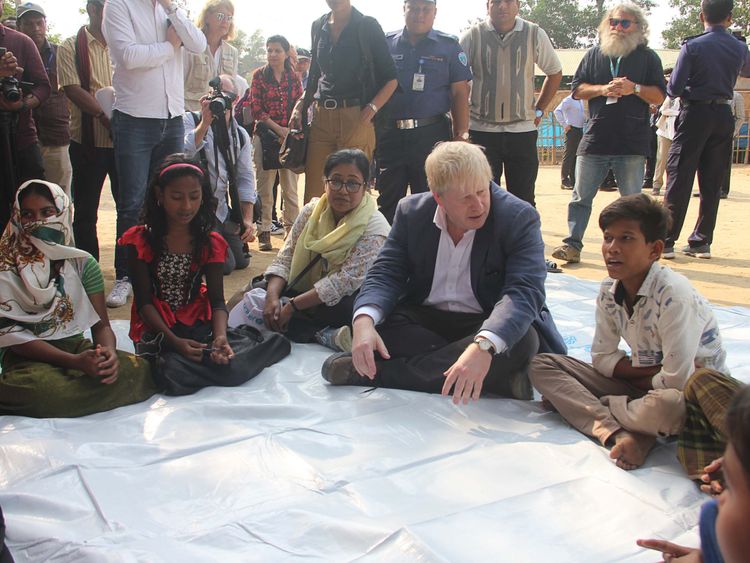 Following the tour, Mr Johnson said: "I have seen for my own eyes the horrendous living conditions the Rohingya people are having to endure and it has only further strengthened my commitment to working with international partners to improve the lives of these people in 2018."
Paying tribute to "the hospitality and compassion shown by the government of Bangladesh", the Foreign Secretary said that the government in Dhaka was facing "an enormous challenge in providing humanitarian assistance to the Rohingya community".
"While I welcome steps by both the Burmese and Bangladeshi governments towards ensuring that these people can return home, it is vital that the Rohingya refugees must be allowed to their homes in Rakhine voluntarily, in safety and with dignity, under international oversight, and when the conditions in Burma are right," Mr Johnson said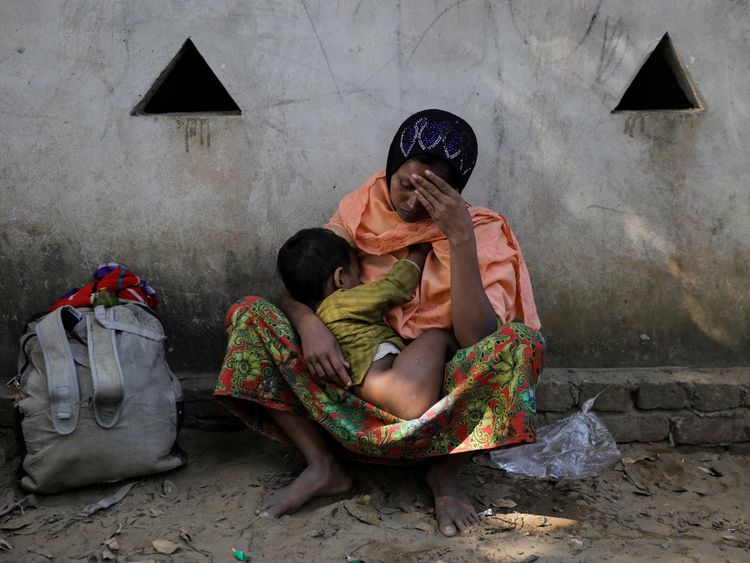 Medics from the UK have also visited Bangladesh to help fight a diphtheria outbreak in the Rohingya refugee camps.
The team of 40 NHS doctors, nurses and paramedics treated more than 3,000 people, including over 500 for diphtheria, most of them children.
The Foreign Office said Mr Johnson visited a UNICEF child-friendly site where he saw the efforts being made to keep young people safe, and sat down with some children on the site to talk about their drawings.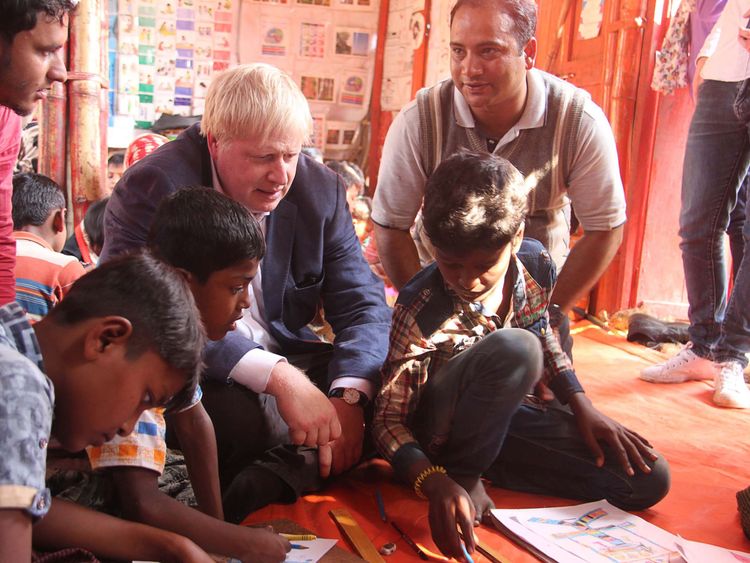 His visit follows disturbing images released by Reuters that have shed light on a massacre of Rohingya men shot and hacked to death in September.
Gruesome stories of genocide by Myanmar troops – including the murder of babies – have been told by MPs in a debate in the House of Commons on the plight of Rohingya refugees.
Responding to a catalogue of horrific accounts, Foreign Office minister Mark Field said it was increasingly accurate to describe the actions of Myanmar's government as ethnic cleansing.
:: Evidence of Rohingya massacre revealed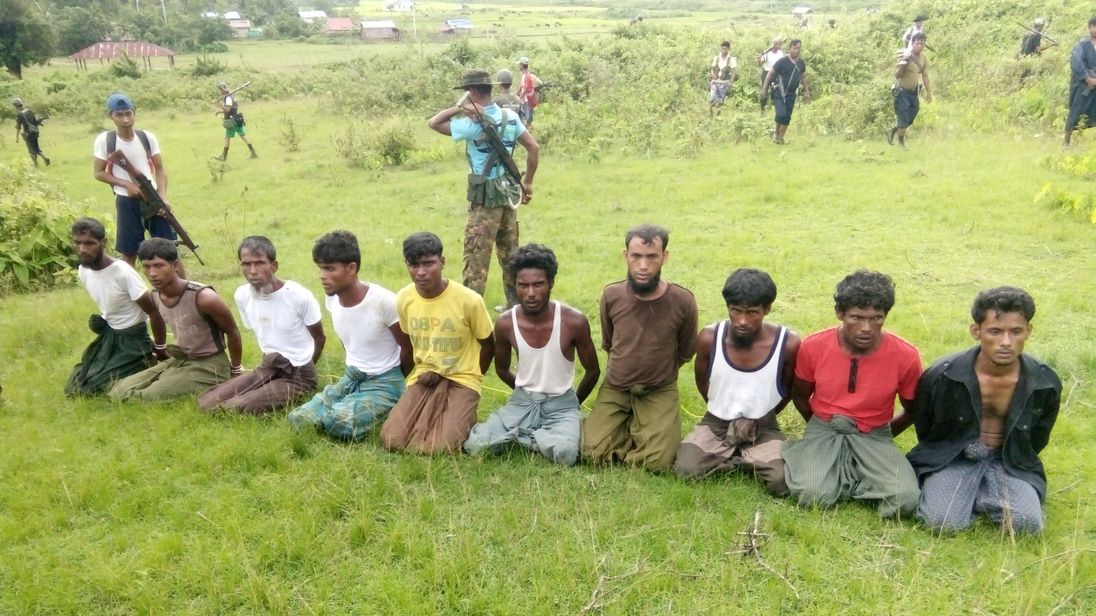 Mr Field told MPs: "The broader reason is we're trying diplomatically as far as possible to see movement from the Burmese government and in fact there has been some, quite significantly, from Aung San Suu Kyi."
On allegations of ethnic cleansing, the minister said: "It is a phrase, because it is loaded I think with great emotion and a sense of a finality about ethnic cleansing, that I have hitherto been relatively reluctant to use.
"Not in any way in disrespect to the Rohingya, but we still maintain a hope that many Rohingya will be allowed to return safely to Burma (Myanmar). It may be a forlorn hope.
"However, I do also accept the UN High Commissioner for Human Rights having said it seemed to him like a textbook case of ethnic cleansing. And I conclude this appears I'm afraid to be increasingly an accurate description of what has happened."