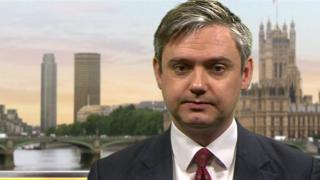 An MP has been suspended by the Labour Party amid claims he sent inappropriate messages to a former female member of staff.
Barrow and Furness MP John Woodcock said he was told in December that the complaint was being referred as a potential breach of the Labour Party's policy on sexual harassment.
The Mirror reported that the aide felt uncomfortable and left her job.
John Woodcock MP suspended over sexual harassment claims
Mr Woodcock has said he "does not accept" the allegation.
A Labour Party spokesperson said he had been suspended "pending due process" and added "it would not be appropriate to comment further on an ongoing case".
In a statement, Mr Woodcock said the complaint had been referred to Labour's national constitutional committee.
"I do not accept the charge being brought against me but have been co-operating fully with the process and remain committed to a thorough and fair investigation of the case," he said.
"I am therefore very concerned that one of the very few individuals with knowledge of the case chose to place selective details of it in newspapers this weekend. Labour's new general secretary has cited this publicity as a reason to suspend me from the Labour whip.
"The decision at this politically charged time to place details of my case in the press and then suspend me places a serious question mark over the integrity of the process, which serves neither those making complaints nor those facing allegations."
A Labour Party spokesperson said "all allegations are fully investigated" and any disciplinary action is "taken in line with the party's rule book and procedures".
Mr Woodcock was first elected in 2010 and has been a fierce critic of Labour leader Jeremy Corbyn.