John Boyega: Inclusion riders are fantastic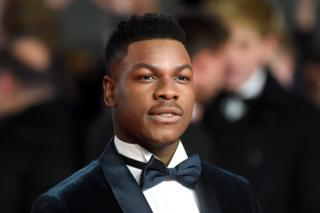 John Boyega has told Newsbeat he's "100%" interested in using inclusion riders.
It's a clause in an actor's contract where they ask that projects have a diverse cast and crew.
The Star Wars actor was speaking at a screening of Pacific Rim: Uprising, his first film with a production credit.
He said he's interested in his production company using them in the future because they're "fantastic".
"We are redefining and reshaping the industry at the moment," the British star told Newsbeat.
"A lot of the secret rules of Hollywood are unfounded and unlawful so to start including them [inclusion riders] makes our industry better.
"Those who wish to defy [using inclusion riders], they're held accountable. So for me, I love that it's happening."
As well as being involved in the production of Pacific Rim: Uprising, John also stars alongside Scott Eastwood and Cailee Spaeny.
It follows the conflict between monsters of mass destruction and the human-piloted super-machines built to vanquish them.
Inclusion riders made the headlines at the Oscars when Frances McDormand mentioned them at the end of her best actress acceptance speech.
"It means that you can ask for and/or demand at least 50% diversity, not only in casting but also in the crew," she explained backstage afterwards.
Her mentioning the phrase prompted a dramatic surge of interest in the term on Google.
Black Panther actor Michael B Jordan has also said he'll adopt a diversity clause for projects made by his production company.
He said he was committing to using the "inclusion rider" for all work made by Outlier Society.
In an Instagram post he said he was doing it "in support of the women and men who are leading this fight."
Matt Damon and Ben Affleck's film company has also promised to use them.
Pearl Street Films has produced features like Jason Bourne and Manchester By The Sea.
Pacific Rim: Uprising is released on 23 March.
Follow Newsbeat on Instagram, Facebook and Twitter.
Listen to Newsbeat live at 12:45 and 17:45 every weekday on BBC Radio 1 and 1Xtra – if you miss us you can listen back here.