Joel Tomkins: Wigan Warriors forward suspended for four weeks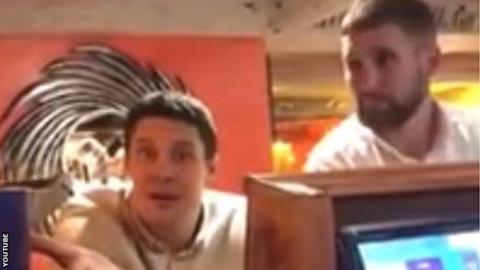 Wigan Warriors have suspended forward Joel Tomkins for four weeks after a video showing him being abusive to bar staff appeared on social media.
The 31-year-old, who appears drunk in the clip, has also been fined £10,000, while brother and team-mate Sam, who was with him, has been fined £5,000.
The Super League club say they will investigate the incident and hold discussions over Joel Tomkins' future.
"I was pretty disgusted at the video," executive director Kris Radlinski said.
"Our players know and fully understand the role that they have to play within the community and to see two of our high profile, senior players behave in such a way, disappointed me greatly."
The clip surfaced on social media on Saturday after Wigan were defeated 23-0 by local rivals Warrington Wolves in the Challenge Cup quarter-finals.
In the video, Joel Tomkins attempts to get behind the bar and swears at staff before being asked repeatedly to leave.
It is not yet known when the incident occurred, although it appears to be some time before the loss at Warrington.
The former England international will now miss Wigan's next four Super League fixtures as they look to close a four-point gap on leaders St Helens.
"They aren't just role models for the young kids in the town, they're role models for the younger players in the squad," Radlinski added.
"It is impossible to put a strong culture in place if players you trust to drive those standards act in such a way.
"All players are allowed periods of downtime but know that they must act responsibly and in a manner fitting of a professional sportsman.
"Having spoken to both Joel and Sam this morning, they both expressed shame and regret about their behaviour and the effects it has had on all of the individuals concerned.
"Both of them are fully aware that they have disrespected the club and the town – and let themselves and their families down."