Jimmy Carter says that the 'agreement of the century' proposed by Trump "undermines the possibilities of a just peace"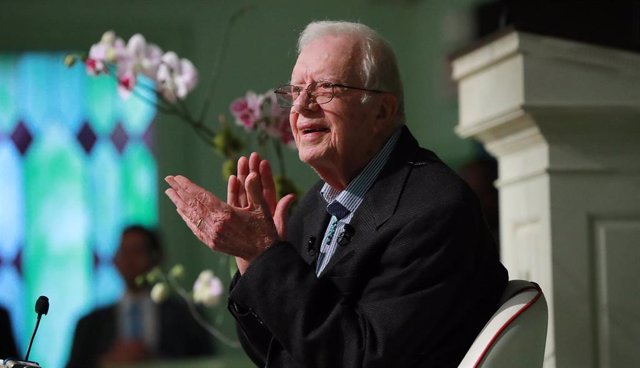 Former US President Jimmy Carter – Curtis Compton / TNS via ZUMA Wire / DPA – Archive
MADRID, Jan. 31 (EUROPE PRESS) –
Former US President Jimmy Carter has said that Donald Trump's peace proposal for the Israeli-Palestinian conflict "undermines the possibilities of a just peace" and stressed that it violates International Law.
"If implemented, the plan condemns the last viable solution to this long conflict, the two-state solution," he said in a statement, in which he asked the member countries of the United Nations to respect the resolutions of the Security Council. and "reject any unilateral application of the proposal by Israel by seizing more Palestinian land."
In this regard, he said that the so-called 'agreement of the century' means "the unilateral annexation of a large part of the occupied Palestinian territories" and "offers the Palestinians a fragmented state, without control of their borders, within four years and under certain conditions, leaving the status of large parts of the West Bank for future determination. "
The former president has stressed that the proposal "violates the two states' solution at the 1967 borders, codified in a long list of UN Security Council resolutions from 242, in 1967, to 2334, in 2016 ".
"In addition, the proposal violates International Law on self-determination, forcing land and the annexation of occupied territories," said Carter, who stressed that "by calling Israel 'the nation state for the Jewish people' , the plan also encourages the denial of equal rights for Palestinians who are citizens of Israel. "
The former 95-year-old American president was awarded the Nobel Peace Prize in 2002 for his decades of tireless efforts to find peaceful solutions to international conflicts, advance democracy and Human Rights and promote economic and social development ".
Carter measured to achieve the Camp David Accords in 1978, which led to the signing of peace between the Egyptian president Anuar el Sadar and the Israeli prime minister Menachem Begin.
The so-called 'agreement of the century' points to Jerusalem as the "indivisible" capital of Israel, which would retain control of the Jewish colonies and the Jordan Valley, while Palestine would have its capital in an area of ​​East Jerusalem located outside the security barrier installed by Israel.
The president of the United States, Donald Trump, defended, in an appearance in the White House next to the prime minister of Israel, Benjamin Netanyahu, that is a "realistic" solution to guarantee the peaceful coexistence of two states and urged the Palestinians to accept this "opportunity", which "could be the last".
In response, the president of the Palestinian Authority, Mahmoud Abbas, described the proposal as "the slap of the century" and stressed that it is destined to end "in the garbage dump of History."
For his part, Netanyahu said Wednesday that the proposal "is the best agreement" that the Palestinians can achieve, who have asked them to accept the 'agreement of the century'.