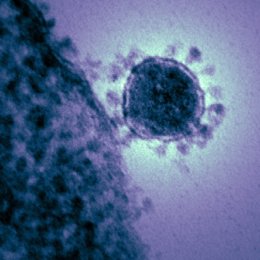 File image of a coronavirus – US NATIONAL HEALTH INSTITUTE – Stock
MADRID, Jan. 16 (EUROPE PRESS) –
Japan confirmed on Thursday the first case in the country of the mysterious viral outbreak declared in central China almost two weeks ago.
Japan confirms the first case of the mysterious viral outbreak declared in China
The outbreak, according to the latest analysis, could be a coronavirus potentially similar to the cause of Severe Acute Respiratory Syndrome or SARS that broke out in southern China 18 years ago and killed 800 people worldwide.
"A positive result has been obtained for the new coronavirus … It is the first time that a case of pneumonia associated with a new coronavirus has been confirmed in Japan," the Japanese Ministry of Health announced in a statement.
The Ministry of Health has specified that a medical center located in Kanagawa Prefecture reported a case of pneumonia in a 30-year-old man who had returned from the Chinese city of Wuhan. As symptoms, the cabinet has highlighted "fever since January 3".
The first time that the affected, who has remained hospitalized until Wednesday, visited a medical center was on the 6th and, upon warning that he had been in China, a sample was taken for analysis at the National Institute of Infectious Diseases in Japan.
The viral outbreak claimed its first victim in China last week. The patient died of severe pneumonia combined with abdominal "tumors", coupled with chronic liver disease. At the moment, there are 41 confirmed cases of coronavirus.
The coronavirus was confirmed after the Hong Kong authorities reported the entry into the Wuhan hospital of two citizens who had recently visited the Chinese region, specifically a market where some animal transmitting the virus would have come into contact or consumed.
In this regard, the Ministry of Health of Japan has specified that the patient did not visit the market in question.
In addition, he has called for calm and recalled that "there is no clear evidence of sustained (virus) transmission from person to person." He has also recommended "taking regular infection control measures, such as handwashing, taking into account the cold and flu season."