Jamie Acourt: 'Most wanted' man arrested in Barcelona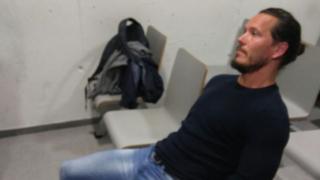 One of Britain's most wanted fugitives, Jamie Acourt, has been captured in Spain on suspicion of drug offences.
Armed officers detained Mr Acourt after he left the Metropolitan Sagrada Familia Gym in Barcelona on Friday afternoon.
The 41-year-old from south London is wanted by police investigating the large-scale supply of drugs.
A former suspect in Stephen Lawrence's murder in 1993, he has always denied any involvement in the killing.
He was arrested as part of a joint operation between the National Crime Agency (NCA), Metropolitan Police and Spanish National Police.
A spokesman for the Met said: "The EAW (European Arrest Warrant) was issued as part of the Met's efforts to trace Acourt in relation to an investigation into the unlawful supply of controlled substances.
"This relates to an investigation launched in 2016 by detectives from the Serious and Organised Crime Command.
"Extradition proceedings now await."
Mr Acourt will appear at court in Madrid early next week for an extradition hearing.
Mr Acourt was last seen in the UK on 1 Februrary 2016, in the Eltham area.
Prior to his move to Spain he was known to visit south-west London and areas of Surrey.