Jamie Acourt accepts extradition from Spain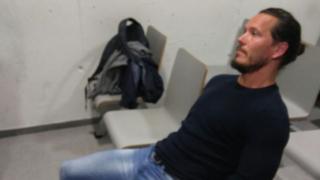 UK fugitive Jamie Acourt will not challenge his extradition from Spain after being arrested over alleged drug offences, the Spanish High Court has said.
Mr Acourt, who was one of Britain's most wanted fugitives, was arrested in Barcelona on Friday.
He was sought by police investigating the large-scale supply of drugs.
On Sunday, it was confirmed the 41-year-old from south London had accepted his extradition at a hearing in Madrid.
Appearing via video-link from Barcelona in front of a High Court judge, Mr Acourt was denied bail.
Armed officers arrested Mr Acourt after he left the Metropolitan Sagrada Familia Gym in the Spanish city on Friday afternoon.
He was detained under a European Arrest Warrant as part of operation Captura, a joint effort by the National Crime Agency (NCA), Metropolitan Police and Spanish National Police.
He was last seen in the UK on 1 February 2016, in the Eltham area and was known to visit south-west London and areas of Surrey.
Mr Acourt was a former suspect in Stephen Lawrence's murder in 1993 but has always denied any involvement in the killing.
His transfer to Britain should happen relatively quickly, according to the BBC's Madrid correspondent Tom Burridge.