James Blake 'sad boy' statement: Artists support singer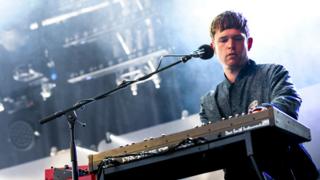 James Blake wants people to stop referring to him as a "sad boy" – calling the expression "unhealthy and problematic".
The musician says the phrase has been used in reaction to his latest single, Don't Miss It, as well as older music.
"It is only ever a good thing to talk about what is on your mind," he says.
Artists including Anne-Marie and Years & Years' Olly Alexander have backed his comments.
"Shame on whoever is calling him 'sad boy' and putting him in that box, it's embarrassing for them," Olly told Radio 1 Newsbeat.
"We are already in an epidemic of male depression and suicide," James wrote on Twitter, referencing the fact that suicide is the biggest killer of men under 45 in the UK.
"I've seen enough friends drown in this, and almost drowned in it myself because I bottled everything up, afraid of being seen as weak or soft.
"I now see the great strength, and benefit for those around you in actually opening up."
'Shame on the people labelling'
Acts including Olly Alexander from Years & Years have backed his comments: "We're very pro James Blake, lots of love and support to him," he told Newsbeat.
"It's hard for everybody, but with men especially there's a stigma around talking about how you feel."
Olly has had his own struggles with bottling things up, revealing recently that he was advised to keep his sexuality hidden at the beginning of Years & Years' career.
But labels are something he has had to deal with since winning the BBC's Sound of 2015.
"I'm always going to be boxed in as a gay singer," he says.
"It's something I just have to negotiate and it's interesting to see who does label you and who doesn't – because it tells you more about the person labelling you than it does about yourself."
'Tell people how you're feeling'
"Sad boy" is a term Mabel definitely thinks is unhelpful.
The 22-year-old says she's struggled with anxiety and depression growing up, and believes being open about it helps.
"I'm hoping if I talk about it then other people talk about it and we can have this discussion and it's not taboo," she says.
The singer says it's not always possible to do all the things she needs to do.
"Obviously when you're not feeling well it can be really hard to play a show or do an interview or a photo shoot.
"You have to tell people how you're feeling – write a song about it."
'This is the time to talk'
Anne-Marie says that "it's good to hear it from a man".
"I feel there's a lot of girls and women trying to get men to talk – I do anyway," she explains.
"Artists should take a lot of responsibility because they have a large audience.
"The more they speak about issues like mental health, the better it is.
"I find we forgot about the men and how they feel. Now is the time. It's good."
'The tip of the iceberg'
Singer-songwriter Isaac Gracie says James Blake's message "really is something that resonated with me".
The former choir boy says that "sad boy music" is "one of these damaging terminologies we've become too comfortable with glossing over".
"I've felt my music being perhaps kind of – not disregarded, but almost being put down, to a certain extent, as 'sad boy music' – and actually that's a discouraging thing.
"There are matters of anxiety, depression and real mental health issues that I think are worth talking about and that 'sad boy' situation is just the tip of the iceberg."
For help and support on mental health visit the BBC Radio 1 Advice pages.
Follow Newsbeat on Instagram, Facebook and Twitter.
Listen to Newsbeat live at 12:45 and 17:45 every weekday on BBC Radio 1 and 1Xtra – if you miss us you can listen back here.
You can find out how to watch and listen on the official Biggest Weekend site.