Italy set for populist government
Following a meeting with the Italian President, law professor Giuseppe Conte has accepted the role of Prime Minister.
Italian President Sergio Mattarella gave Mr Conte a second mandate to form a populist government in the eurozone's third largest economy.
This comes hours after the leader of the 5-Star Movement, Luigi Di Maio, and League leader Matteo Salvini said in a statement on Thursday that they have achieved "the conditions for a political government."
Mr Mattarella will have to agree to the proposed coalition and cabinet. If all goes to plan, the new government will be sworn in at 2pm GMT on Friday.
Global markets have been rattled by mounting fears of a new snap election being held if no government was formed soon.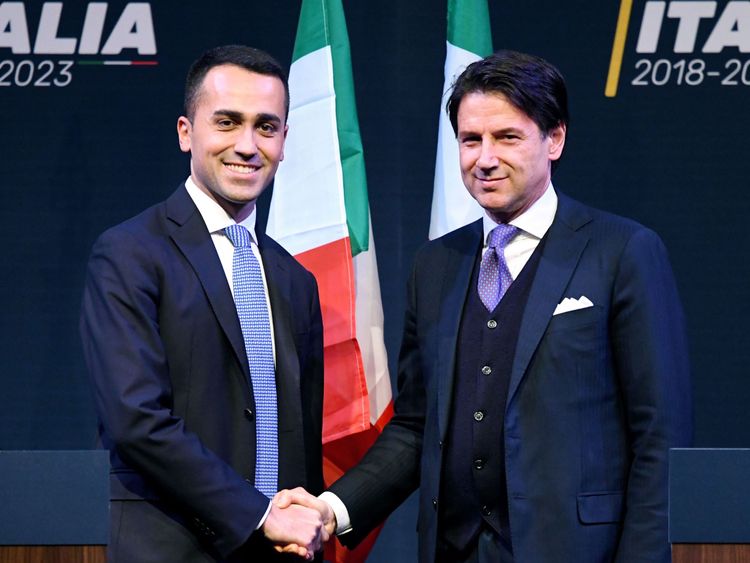 Mr Salvini and Mr Di Maio's initial attempt to form western Europe's first populist government stalled earlier this week when Mr Mattarella refused their choice of an anti-euro economy minister.
Mr Conte previously quit as PM designate because the president wouldn't accept the anti-euro candidate for economy minister.
Carlo Cottarelli was suggested as a stop-gap replacement, before he failed to present a cabinet and won no support. He has stepped aside.
The list of ministers, many of whom are not well known figures, being proposed to the president are:
:: Prime Minister – Giuseppe Conte
:: Economy – Giuseppe Tria
:: Home affairs – Matteo Salvini
:: Employment – Luigi Di Maio
:: Foreign Affairs – Enzo Moavero Milanesi
:: European Affairs – Paolo Savona
More from Italy



ECB sources: No need to intervene in Italy crisis




US, European stock markets rattled by Italy crisis




Who is Italy's likely new prime minister Carlo Cottarelli?




Italy crisis: President faces impeachment calls after blocking Eurosceptic minister




Ex-Italian PM Mario Monti: 'Incoming government sees me as evil but I hope it succeeds'




Nerves as far-right League party set for office in Italy – and what we can expect
Giovanni Tria, a little known economics professor, is set to be awarded the key economy ministry job, instead of the eurosceptic economist Paolo Savona who had been vetoed by President Mattarella.
More follows…