Italy 2022 Election Results, Region by Region
MADRID, 26 Sept (EDITIONS) –
The leader of the extreme right brothers from Italy, Giorgia Melonihas achieved her final political rise following Sunday's elections and, if forecasts come true, will become the first woman to head a government in the transalpine country.
With more than 99% of the votes counted, the Brothers of Italy became the party first force in almost all regions of Italywith the exception of the constituency of Campania, which corresponds to this Metropolitan area of ​​Napleswho managed to keep it 5 Star Movement.
This was the only one, since after the current elections the rest of the regions where he won in 2018 (which practically corresponds to the lower half of the peninsula) also gave victory to the brothers of Italy. A situation similar to that of Trentino Alto Adige Y Tuscanywhere he won centre-left coalitionled as then by the Democratic Party.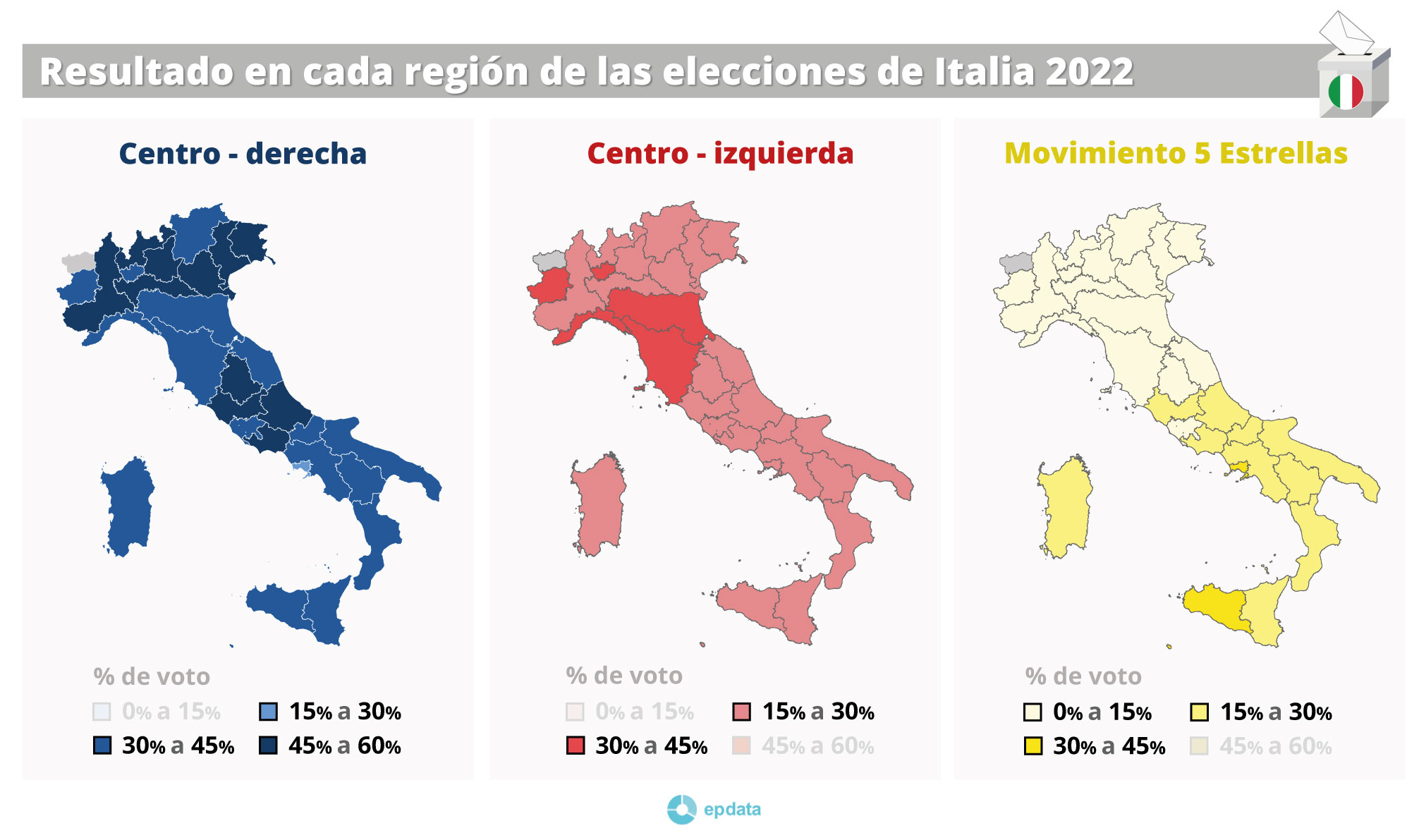 The centre-right coalition won more than 50% of the vote in all constituencies of Veneto and Lombardy, in the north of the transalpine country and has achieved a weaker result in the already mentioned metropolitan areas of Naples (almost 26%), the only one where it was not the first force; those of Trentino-Alto Adige (31.18%) or Sicilyin whose districts it is around 35%.
Around this last percentage and 30% are the highest achieved by the centre-left coalition Emilia-Romagna, Tuscany, Liguria or Piedmont. in the Sicily 20% not yet reached.
In the case of the 5 Star Movement, only of Lazio in the south surpasses 15% of the votemore than 40% in the Naples metropolitan area, 30% in part of Sicily and 25% in the rest of Sicily and in Campania, Puglia and Calabria.