Israeli jets bomb Gaza after mortar shell barrage
"Most of the launches were intercepted by the IDF's (Israel Defence Forces) Iron Dome aerial defence system," said an Israeli military spokesman.
One shell exploded near a pre-school before the children had started for the day.
Sirens sounded at villages and towns near the border as the shells came in, but there were no reports of injuries.
The mortar attack is the largest from Gaza since the 2014 war, according to Israel's Shin Bet security service.
"Israel takes a grave view of the attacks on it and its communities by Hamas and Islamic Jihad from the Gaza Strip," said Prime Minister Benjamin Netanyahu.
"The IDF will respond to these attacks powerfully,"
Israel's military confirmed that explosions and smoke near the town of Deir al-Balah were related to its actions, and officials said the site was used for training militants.
Gaza security sources said at least one Hamas base and four Islamic Jihad bases had been hit, but a Hamas spokesman said only "resistance" bases were targeted.
Hamas – the group that runs Gaza – said that "what the resistance carried out this morning comes within the framework of the natural right to defend our people".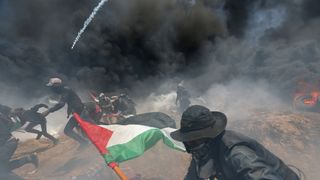 The incident comes after a number of Palestinians were killed over the last two days – including three from Islamic Jihad.
On Monday, a tank fired at a Hamas position in Gaza, with the Palestinian Health Authority saying one man had died and another was injured.
Israel said it had retaliated after troops came under fire while trying to stop two armed Palestinians getting across the border with the "intention of carrying out an attack".
A day earlier, three Islamic Jihad militants were killed when Israeli tanks shelled one of its observation points – with the group promising to hit back.
Israel said it had attacked after an explosive device was placed on the border fence.
It all comes just two weeks after 61 Palestinians were killed during violent protests at the border on the same day the US went ahead with its controversial decision to move its embassy from Tel Aviv to Jerusalem.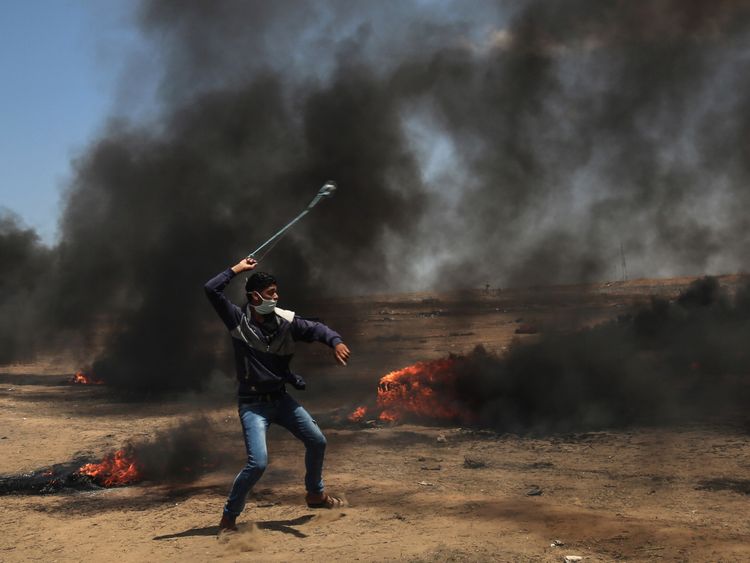 Israel faced fierce international condemnation for the deaths but insists it is defending its communities and that Hamas is trying to use protest as a cover for attacks.
Demonstrations along the border have continued at a lower level since then, and at least 116 Palestinians are said to have died since the unrest began on 30 March.
The protests are calling for Palestinians displaced by the creation of Israel in 1948 to be allowed back to their former homes.
A boat carrying students and sick and injured people also left Gaza City's port on Tuesday in the latest action.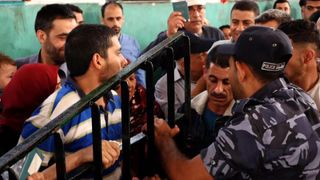 It is aiming to symbolically break Israel's sea blockade, which limits boats to six nautical miles from shore.
Those on board are reported to be needing treatment or wanting to study abroad.
"We are sending a clear message to Israel and the rest of the world that the siege must be lifted," said one of the organisers, Issam Hamad.
"Gazans are fed up with the lives they live. This is an absolutely peaceful action. It is not against Israel."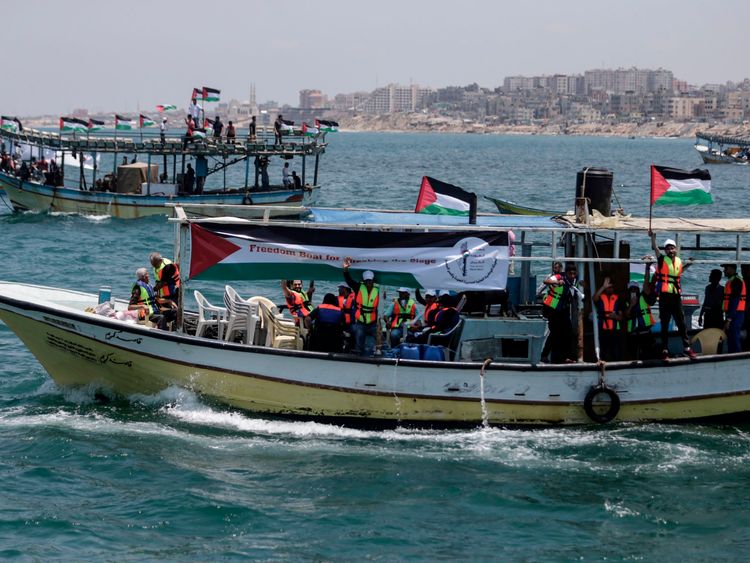 Tight controls on Gaza's sea and land borders and the movement of its population of two million have brought its economy to near collapse.
Some 80% of the enclave's population rely on international humanitarian aid to survive and 96% of the water there is undrinkable, according to Oxfam.
Israel says the blockade is necessary to prevent attacks and is also planning a "new and impenetrable" barbed wire-topped barrier at Zikim beach, a few miles north of Gaza.
"This is a unique obstacle that will effectively prevent the possibility of penetrating Israel by sea," said defence minister Avigdor Lieberman.