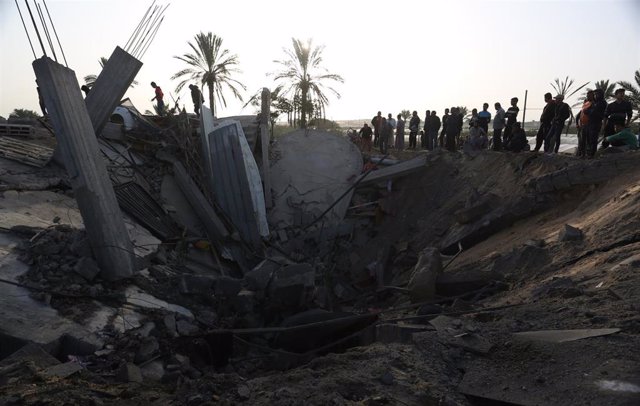 Damage caused by an Israeli bombardment against the town of Jan Yunis, in the southern Gaza Strip – Abed Deeb
MADRID, Nov. 15 (EUROPE PRESS) –
The Israeli Army announced Friday that it is investigating a bombing that it executed on Wednesday night against the town of Deir al Balá, located in the Gaza Strip, and that resulted in the death of eight civilians.
Israel investigates a bombing carried out against the Gaza Strip that killed eight civilians
"We are aware of the claim that non-combatants were injured in the center of the Gaza Strip, and we are investigating it," said the Israel Defense Forces (IDF).
He also added that the Israeli Army "makes great operational and intelligence efforts not to cause damage to non-combatants during operations against terrorist activities," as reported by the Israeli newspaper 'Haaretz'.
The Palestinian Ministry of Health said that among the deadly victims of the bombing, all of them members of the same family, there were a total of six children, including two babies whose bodies were recovered on Thursday from the rubble of the house.
After the attack, an Israeli military spokesman said that the target was Rasmi Abú Malhus, a commander of Islamic Jihad, and they published his photograph, although residents said he was not among the fatalities and that the family had no ties to the group .
The Israeli authorities reached a ceasefire agreement with the terrorist group on Thursday after two days of clashes that began with the selective Israeli attack that ended the life of Baha Abú al Atta, a commander of the Palestinian organization.
However, hours after the agreement entered into force, six projectiles have been fired from the Gaza Strip, of which three have been intercepted by the 'Iron Dome' system, according to the Israeli Army, which carried out bombings against The enclave in the early hours of this Friday.
The Israeli Army has assured that the operation 'Black Belt', which began with the attack that killed Abú al Atta, was aimed at taking a serious blow to Islamic Jihad, a goal that he has considered fulfilled with the operations of the last " 48 hours".
In this sense, the Israeli Prime Minister, Benjamin Netanyahu, stressed that the objective "has been fully accomplished." "The purpose of the operation was to reach the Islamic Jihad commander in the Gaza Strip. It was eliminated and with it dozens of terrorists. Dozens of important Islamic Jihad infrastructure targets have been equally eliminated," he said.
For its part, the Palestinian Ministry of Health has estimated in 34 Palestinians, including eight children, the death toll from the bombings, which have also left more than 110 wounded.
Data from the Palestinian authorities reflect that 32.35 percent of those killed are women and children, while in the case of the injured this figure amounts to 59.4 percent, according to the Palestinian news agency WAFA.