Israel denounces the launch of another rocket from the Gaza Strip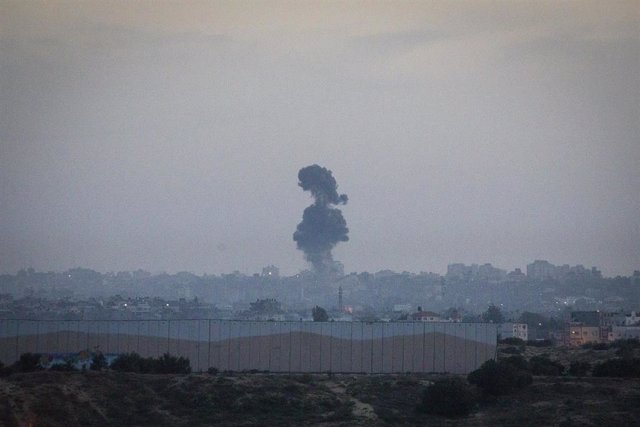 Image of an explosion in the Gaza Strip during the Israeli bombing. – Ilia Yefimovich / dpa – Archive
MADRID, 2 Feb. –
The Israeli Army has denounced this Saturday that another rocket has been launched from the Gaza Strip into its territory and has assured that it is the fourth consecutive day in which "terrorists" launch rockets at Israeli civilians.
"Rockets, mortars and explosives were launched from Gaza to Israel today. In response, our fighter planes reached terrorist targets of Hamas (Islamic Resistance Movement) in Gaza," the Israel Defense Forces (IDF) said in another message released. through your Twitter account.
The IDF has said it considers Hamas guilty and will continue to operate "against any attempt to injure Israeli civilians."
This occurs after the Israeli Army said Friday it had attacked a "military post" in Hamas after firing three mortar shells from the Gaza Strip. "In response to the mortar attack on Israel, an Israeli Democratic Forces (IDF) tank has just attacked a Hamas military post in Gaza," they also said through the social network Twitter.
Previously, he had reported on the firing of three mortar shells from the enclave against Israel, one of which was intercepted by the 'Dome of Iron' air defense system.
In addition, the IDF noted that the 'Iron Dome' system intercepted another projectile fired from the Gaza Strip, minutes after air alarms jumped in the southern part of the country.
These launches have taken place after the Israeli Army announced the sending of reinforcements to areas of the West Bank and the border with the Gaza Strip in the face of demonstrations in rejection of the so-called 'agreement of the century', the peace proposal presented by the United States for the Palestinian-Israeli conflict.
The so-called 'agreement of the century' points to Jerusalem as the "indivisible" capital of Israel, which would retain control of the Jewish colonies and the Jordan Valley, while Palestine would have its capital in East Jerusalem.
The president of the United States, Donald Trump, defended, in an appearance in the White House next to the prime minister of Israel, Benjamin Netanyahu, that is a "realistic" solution to guarantee the peaceful coexistence of two states and urged the Palestinians to accept this "opportunity", which "could be the last".
This same Saturday, the president of the Palestinian Authority, Mahmoud Abbas, has announced the complete rupture of relations with the United States and Israel in a gesture of rejection of the peace plan for the Middle East announced by the White House.
"We have informed Israel and the United States that there will be no relationship with them, including the field of security," Abbas said during his appearance during the extraordinary Arab League summit held in Cairo, the capital of Egypt.
Abbas transferred this intention through two letters sent respectively to the Israeli Prime Minister, Benjamin Netanyahu, and to the director of the Central Intelligence Agency of the United States, Gina Haspel. "We have told them that we cut off all relations and agreements with them, including security, and that Israel must assume its responsibilities as an occupying power," Abbas said.