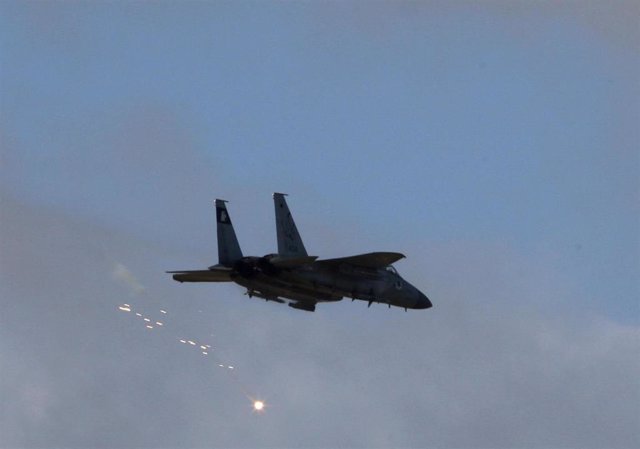 Hunting of the Israeli Air Forces – REUTERS / BAZ RATNER – Archive
MADRID, Nov. 27 (EUROPE PRESS) –
The Israel Defense Forces (IDF) have carried out an attack on several targets in the Gaza Strip early Wednesday morning in retaliation for the launch of two projectiles against Israeli territory.
"In response to the rockets launched from the Gaza Strip against Israeli civilians tonight, our fighters have attacked several Hamas targets in the area," the Israeli Army said through its Twitter social network account.
Thus, they have warned that the Islamic Resistance Movement (Hamas) "will pay the consequences of their actions against Israeli civilians."
The attack took place hours after a launch took place from Gazac territory to Israel. "Two rockets have just been fired from Gaza against Israeli civilians. A rocket has been intercepted by the 'Iron Dome' anti-aircraft defense system," the IDF said in a Twitter message in which they also indicated that alarm sirens were they had activated in the border town of Sderot.
At the moment, no Palestinian group has claimed responsibility for the shooting. Also, there is no information on victims of these attacks.
The Israeli authorities reached a ceasefire agreement with Islamic Jihad on November 14 after two days of clashes that began with the selective Israeli attack that ended the life of Baha Abú al Atta, a commander of the Palestinian organization.
The Israeli Army said that the operation 'Black Belt', which began with the attack that killed Abú al Atta, was aimed at taking a serious blow to Islamic Jihad, a goal that he has considered fulfilled with the operations of the following "48 hours".
In this sense, the Israeli Prime Minister, Benjamin Netanyahu, stressed that the objective "has been fully accomplished." "The purpose of the operation was to reach the Islamic Jihad commander in the Gaza Strip. It was eliminated and with it dozens of terrorists. Dozens of important Islamic Jihad infrastructure targets have been equally eliminated," he said.
For its part, the Palestinian Ministry of Health indicated that at least 35 Palestinians, including eight children, died from the bombings, which also left more than 110 injured.
Both Hamas and Islamic Jihad are considered terrorist organizations by the United States and the European Union.