Israel attacks a Ham'aacute; s "military post" after firing three mortar shells from the Gaza Strip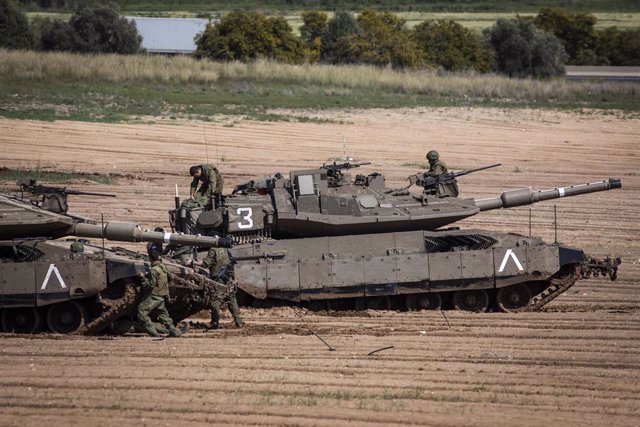 An Israeli Army tank near the Gaza Strip – Ilia Yefimovich / dpa – Archive
MADRID, Jan. 31 (EUROPE PRESS) –
The Israeli Army said Friday it had attacked a "military post" of the Islamic Resistance Movement (Hamas) after firing three mortar shells from the Gaza Strip.
"In response to the mortar attack against Israel, an Israeli Democratic Forces (IDF) tank has just attacked a Hamas military post in Gaza," the Army said in a message on its Twitter social network account.
Previously, he had reported on the firing of three mortar shells from the enclave against Israel, one of which was intercepted by the 'Dome of Iron' air defense system.
At the moment there is no information on victims due to the shooting from Gaza or the Israeli response against the Strip, incidents that take place amid the increase in tensions following Washington's announcement of the so-called 'agreement of the century'.
The IDF claimed to have intercepted two rockets launched from the Strip late Thursday. "Three rockets have just been fired from Gaza into Israel. The air defense system 'Iron Dome' has intercepted two," they said.
Hours earlier, the IDF had claimed to have carried out new attacks on targets in the Gaza Strip in response to the launch of 'explosive balloons' and the shots fired at an observation tower.
Israel also attacked the Strip on Wednesday night in response to the launch of a projectile from the Palestinian enclave against its territory, an incident that resulted in no casualties or material damage.
This launch took place hours after the Israeli Army announced the sending of reinforcements to areas of the West Bank and the border with the Gaza Strip in the face of demonstrations in rejection of the so-called 'agreement of the century', the peace proposal presented by the United States for the Palestinian-Israeli conflict.
The so-called 'agreement of the century' points to Jerusalem as the "indivisible" capital of Israel, which would retain control of the Jewish colonies and the Jordan Valley, while Palestine would have its capital in East Jerusalem.
The president of the United States, Donald Trump, defended, in an appearance in the White House next to the prime minister of Israel, Benjamin Netanyahu, that is a "realistic" solution to guarantee the peaceful coexistence of two states and urged the Palestinians to accept this "opportunity", which "could be the last".
In response, the president of the Palestinian Authority, Mahmoud Abbas, described the proposal as "the slap of the century" and stressed that it is destined to end "in the garbage dump of History."
For his part, Netanyahu said Wednesday that the proposal "is the best agreement" that the Palestinians can achieve, who have asked them to accept the 'agreement of the century'.