Islamic State executes a dozen Christian hostages in Nigeria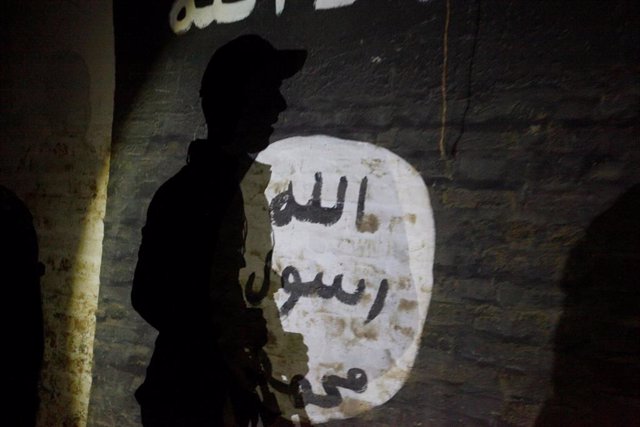 Flag of Islamic State on a wall of Mosul – REUTERS / ALAA AL-MARJANI – Archive
MADRID, Dec. 26 (EUROPE PRESS) –
Islamic State in West Africa (ISWA), the faction of the terrorist group that operates in the Lake Chad Basin, has executed more than a dozen hostages in its possession, including many Christians, a journalist reported Thursday who has seen the video of the execution.
According to Ahmad Salkida, a Nigerian journalist who has repeatedly reported on the jihadist actions in Nigeria, the terrorist group – which was split in 2016 by Boko Haram – has posted a video with the execution of eleven hostages.
They all appeared in an initial recording in which they offered their identities and asked the country's president, Muhamadu Buhari, and the Association of Christians of Nigeria (CAN) to intercede for them, according to Salkida.
Of the thirteen hostages that appear in the recording, the terrorists have executed eleven on Christmas Day, freeing two of them, including the only woman, the journalist said on their website, clarifying that three of the group members were Muslims and non-Christians.
"We have killed them as revenge for the deaths of our leaders, including Abu Bakr al Baghdadi," said the terrorist organization, referring to the Islamic State leader, who died on October 26 in a US special force operation in the north. from Syria
According to Salkida, the execution of the hostages has taken place despite the fact that they had allegedly initiated contacts with the authorities for an exchange for some of their imprisoned leaders, which the Government would have rejected.
The news of the execution comes only four days after the execution of several civilians by this same terrorist group in the state of Borno, in the north of the country. According to the UN, several civilians were executed and several more kidnapped on Sunday on the road between Monguno and Maiduguri, the provincial capital, and where Damaturu links with Biu, an artery that connects Borno with Yobe state.
"The attacks of any actor in an armed conflict against civilians, humanitarian workers and civil infrastructure violate international humanitarian laws," said UN Secretary General Antonio Guterres in a statement Tuesday, stressing that those responsible for such atrocities must be accountable to justice.
According to the United Nations, more than 36,000 people have died, about half of them civilians, since the Islamist group Boko Haram began its insurgency in northeastern Nigeria in 2019, which subsequently extended to the other riverside countries of Lake Chad – Chad, Cameroon and Niger.
In the last year, some 160,000 people have been displaced by violence in Nigeria. More than 7 million people need vital and urgent assistance in Borno, Yobe and Adamawa, the three most beaten states in Nigeria. The UN estimates that around 1.2 million people live in areas that cannot be accessed to offer assistance.