'IS sex slave' post sees Labour official suspended
Ian McKenzie, who is running Labour's branch in the upcoming by-election battleground of Lewisham East, made the comment in a tweet in 2016.
It read: "Emily Thornberry is too old for ISIS. They won't make a sex slave of her. They'll behead her and dump her in a mass grave."
The remarks about Ms Thornberry were unearthed by left-wing commentator Owen Jones.
A Labour source confirmed to Sky News that Mr McKenzie was being investigated.
When asked why, they said they "could not give a running commentary".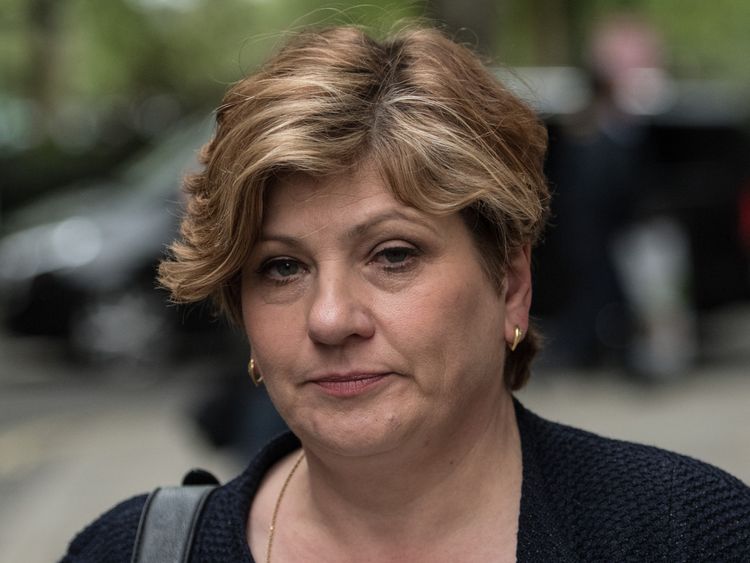 Mr McKenzie said he found out at 9.25am on Tuesday by email, "although journalists had been briefed many hours ago".
He added: "I now know what the issue is and will clarify my position as soon as I can.
"Thank you to everyone who is sending private or public messages of support."
Labour peer Baroness Ann Taylor said: "I have known Ian McKenzie for more than 25 years and few people have done more work for the Labour Party to return Labour MPs and Labour governments."
The suspension comes days after a tense selection for Labour's candidate to stand in the upcoming Lewisham East by-election.
Outgoing Labour MP Heidi Alexander triggered the snap poll by quitting Parliament for a job in London mayor Sadiq Khan's team in City Hall.
Both the left-wing Momentum and Unite candidates failed to secure the nomination.
Centre-left Labour group "Progress" hailed Janet Daby being chosen to defend the seat with an existing majority of 22,000 votes.