Irish call over 'Hooded Men' case rejected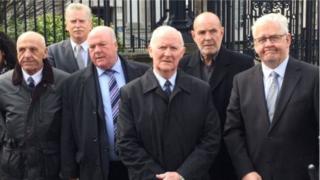 The European Court of Human Rights (ECHR) has rejected a request to find that men detained during internment in Northern Ireland suffered torture.
The so-called hooded men claimed they were subjected to torture by the British army in 1971.
Lawyers for the men have called on the Irish government to appeal.
In 1978, the European Court of Human Rights held that the UK had carried out inhuman and degrading treatment.
Skip Twitter post by @ChrisPageTV
"Hooded men" holding news conference to react to ECHR judgement. Liam Shannon says they're "totally dismayed" – "there's no doubt at all it was torture". Frank McGuigan calls for Irish Government to launch an appeal. pic.twitter.com/HV0Rix8I9r

— Chris Page (@ChrisPageTV) March 20, 2018
End of Twitter post by @ChrisPageTV
However, the court fell short of defining this treatment as "torture".
In 2014, the Irish government said it would ask the European Court to revise this judgement.
'Hooded men'
The 14 hooded men alleged they were subjected to torture sanctioned by the state.
They said they were forced to listen to constant loud static noise; deprived of sleep, food and water; forced to stand in a stress position and beaten if they fell.
Analysis
by Vincent Kearney, Home Affairs Correspondent
This ruling will be greeted with sighs of relief in the corridors of power at Whitehall and much further afield.
A number of other countries, including the USA and Israel, have relied on the European Court's 1978 judgement to defend interrogation techniques used by their security forces.
A decision to revise that judgement and find that the 5 techniques used on the Hooded Men constituted torture could have had huge repercussions.
It would have left the British government and others facing potentially huge claims for damages.
The five techniques the men were subjected to were later banned by the prime minister at the time, Edward Heath.
The men also said they were hooded and thrown to the ground from helicopters – despite being at near ground level, they had been told they were hundreds of feet in the air.
No new facts
The ECHR found: "The Government of Ireland had not demonstrated the existence of facts that were unknown to the Court at the time or which would have had a decisive influence on the original judgment.
"There was therefore no justification to revise the judgment."
The revision request was dismissed by six votes to one with only the judge elected in respect of Ireland issuing a dissenting opinion.
Skip Twitter post by @M_AndersonSF
Disappointed at ECJ judgment- opted to dismiss the Hooded Men's case

There was an onus on Irish Gov to prepare a through, exhaustive and well-argued case & they failed. It is clear the 5 cruel techniques that the British State used against 14 men IS TORTURE. Justice will be heard pic.twitter.com/KV3mAhdzbE

— MEP Martina Anderson (@M_AndersonSF) March 20, 2018
End of Twitter post by @M_AndersonSF
The Irish Government had said new facts had emerged in a television documentary aired in June 2014.
It had subsequently submitted that a psychiatrist, Dr L., who had been heard as an expert for the UK in the original proceedings had misled the court by saying the effects of the ill-treatment were short-lived.
In fact, it was alleged, he had known that the use of the five techniques had long-lasting and severe effects.
The Irish Government also referred to other documents released from archives which it said showed that the UK Government had tried to prevent the ECHR from accessing the full truth about the five techniques.
What was internment?
Northern Ireland Prime Minister Brian Faulkner used the Special Powers Act to introduce internment without trial for those suspected of being involved in violence on 9 August 1971.
During the first morning of Operation Demetrius, 342 people were arrested. More than 100 were released two days later as it became increasingly clear that the RUC's intelligence, based on records more than a decade old, was arguably useless.
Most of the new IRA leadership had escaped army raids by hiding in safe houses or heading south of the border.
Internment stayed in place and by the eve of direct rule from London in 1972, the internees numbered 924.
Surviving members of the group launched a bid for a judicial review against a PSNI decision in 2014 that there was not enough evidence to warrant an investigation into their treatment.
Skip Twitter post by @JimAllister
Welcome slap down by ECHR of ROI Govt's attempt to secure more anti-British propaganda in 'hooded men' case. Same ROI that aided the torture and genocide of IRA by refusing extradition.

— Jim Allister (@JimAllister) March 20, 2018
End of Twitter post by @JimAllister
As well as seeking a judicial review of that decision, the legal bid also challenged decisions by the chief constable, Department of Justice and Northern Ireland Office as "constituting a continuing failure" to order a full and independent investigation.
The written High Court judgement indicated that it meant that the question of an investigation should be revisited but it "did not prescribe how the issue should be taken forward".