Iraqi police again disperse the protesters in Baghdad with tear gas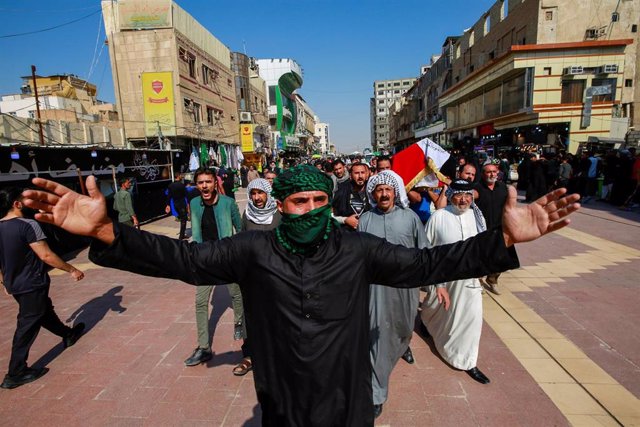 Protests in Iraq – REUTERS / ALAA AL-MARJANI
BAGDAD, Oct. 26 (DPA / EP) –
Iraqi security forces have launched tear gas on Saturday to disperse, for the second consecutive day, groups of protesters concentrated in Baghdad after Friday's clashes across the country, which killed at least 42 people.
Hundreds of participants in the demonstration on Saturday in the Iraqi capital chose the Jumariya Bridge, in the center of the city, to ask again for the improvement of living conditions throughout the country. At the time they tried to enter the Green Zone – the neighborhood that houses the country's embassies and government headquarters – "the police began firing," according to witnesses.
So far there is no record of victims in these clashes, which have broken a brief morning calm in the city during which traffic resumed and protesters dedicated themselves to preparing a sit-in in Tahrir Square.
Meanwhile, Iraqi deputies have not achieved the quorum necessary to hold the emergency session scheduled for today, in a new example of the political paralysis prevailing in the country.
The UN High Commissioner for Human Rights has echoed the reports known in recent weeks, including one released by the United Nations mission (UNAMI), and urged the authorities to investigate and prosecute those responsible of the abuses detected during the protests, which began on October 1 due to the "frustration" of the citizens.
In anticipation of the "great protests," a spokeswoman for the High Commissioner, Ravina Shamdasani, had called for "calm to all parties" and, in particular, has demanded a "calibrated and proportional" action to the security forces, "to that the terrible balance of deaths and damages "of the last weeks is not repeated.
He also expressed the "concern" of the office led by Chilean President Michelle Bachelet over the blocking of social networks and the "intermittent" closure of the Internet service.
For his part, Ayatollah Ali al Sistani, the main Shiite cleric in Iraq, has appealed in recent hours to contain protesters and security forces.
"In these delicate moments for the beloved history of Iraq … I ask the dear protesters and security forces to strictly adhere to peaceful protests and not allow them to lead to violence, riots and sabotage," he said. said in his sermon, read by his spokesman, Abdulmahdi al Karbalai.
Thus, he has transferred to the population that "the members of the security forces are your parents, brothers and children, many of whom participated in your defense fighting against the Islamic State and others who wanted to harm you."
"We also tell the security forces not to forget that the protesters are also their parents, brothers and children," he said, before stressing that the right to protest is contemplated by the Iraqi Constitution.