Iran's Revolutionary Guard destroyed the Ukrainian plane after confusing it with a cruise missile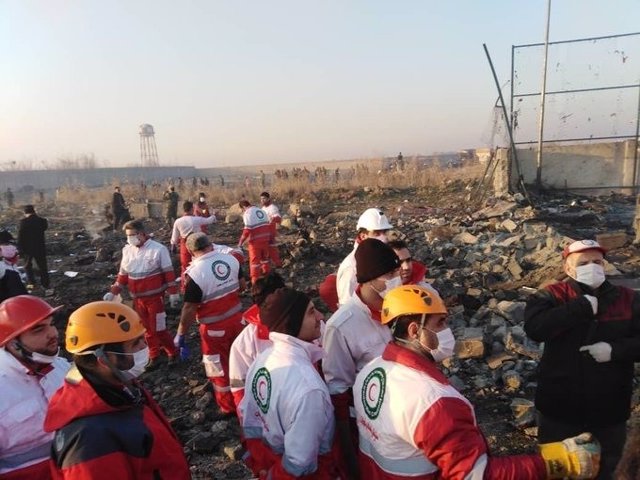 Iranian Red Crescent personnel at the scene of the accident of the Boeing 737 aircraft of Ukraine International Airlines – RED HALF MOON
The device did not respond to a warning message released ten seconds before giving the order to tear it down.
MADRID, Jan. 11 (EUROPE PRESS) –
The commander of the Aerospace Force of the Revolutionary Guard Corps, General Amir Ali Hajizadeh, has assumed full responsibility for the demolition of the Ukrainian plane on Saturday, which he confused with a cruise missile and after the device did not respond to a warning previous.
"I wish I had died and that this incident had not occurred. From the Iranian Revolutionary Guard Corps we accept all responsibility and I am willing to execute any decision adopted by the (clerical) establishment," he said in a hearing before the media and through a speech published in the Iranian news agency Fars.
The general has explained that he was in the west of the country, following the evolution of the events of the last hours in relation to the Iranian attacks on the Iraqi bases of Al Asad and Irbil, when he heard the news.
"We have sacrificed for the people for a lifetime, but now it is time to embarrass ourselves before God and appear before the cameras to explain the situation," he said.
The general has specified the chain of events, which ensures that Iranian forces sent a message to the device before firing. "We do not receive an answer in the next ten seconds, so we decided to take it down," he explained.
According to the general's explanation, one of the Iranian air defense operators had received information that a cruise missile had been launched against Iran in the last minutes. Consequently, "he confused the plane with a missile and, after receiving no response, perhaps because communications were being blocked, he decided to open fire," he added.
Finally, the general explained that he had tried to convince the authorities to declare an air exclusion zone before the start of hostility, but his request was disregarded after "multiple considerations."
At the same time, and according to Tasnim, the country's supreme leader, the great ayatollah Ali Jamenei, has finally ordered a complete and immediate investigation into the plane's demolition on Saturday.