Iranian General Soleimani dies after an attack on Baghdad airport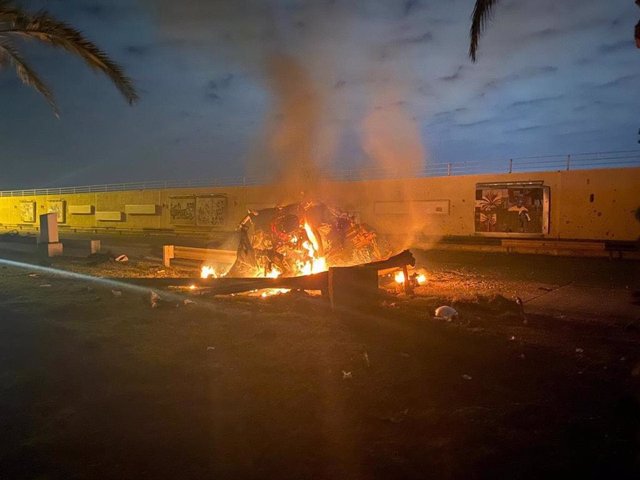 Three missiles hit near Baghdad International Airport. – FACEBOOK SECURITY INFORMATION CENTER IRAK
MADRID, Jan. 3 (EUROPE PRESS) –
Iranian General Qassen Soleimani, head of the Quds Force of the Revolutionary Guard of Iran, and the sub-leader of the coalition of mostly Shiite Iraqi militias Popular Mobilization Units, Abu Mahdi al Muhandis, have died Friday in a missile attack in the Baghdad International Airport.
This has been confirmed by a militia spokesman, known in Arabic as Al Hashd al Shaabi, as reported by the Al Arabiya television network, which added that at least seven people had died in the attack, four of Iraqi nationality and three of Lebanese nationality
The spokesman, identified by the television network as Ahmed al Asadi, has accused the United States and Israel of the attack.
Previously, the same media has confirmed that the Popular Mobilization Units have also announced the death of their Public Relations director, Muhamad al Jabri, in the same attack.
Hours earlier, the Iraq Security Information Center has reported that several people have been injured following the impact of three missiles near the Baghdad airport, which has been closed. Air traffic in the Iraqi capital has also been interrupted.
The statement from the Iraqi authorities, accompanied by several photographs, has added that the missiles have fallen near the cargo room and caused two vehicles to burn.
For its part, the television network Al Sumaria has reported that the missiles have fallen in a camp and that among the injured people there are two soldiers. In addition, he has indicated that "one of the missiles has fallen near a building belonging to the forces of the international coalition."
The situation in Baghdad has worsened following the demonstrations that have taken place at the US Embassy on Tuesday and Wednesday, which forced security forces to use tear gas to disperse them, while the crowd chanted "Death to America." Some areas of the facility were set on fire and some protesters tried to climb the enclosure wall.
The protests were motivated by the US bombing in Iraq and Syria against the Kataib Hezbollah militia, which is accused of being behind the death of an American citizen last week in an attack.