Iran will rethink cooperation with the IAEA if Europe does not respond to its nuclear agreement commitments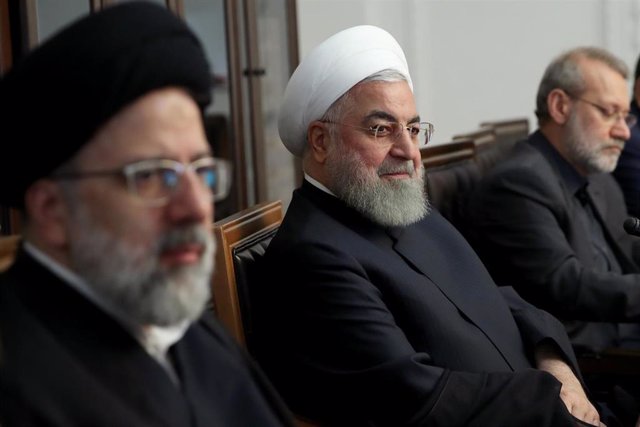 Ali Lariyani (right) with President Hasan Rohani (center) – – / Iranian Presidency / dpa – Archive
TEHERAN, Jan. 19 (DPA / EP) –
The president of the Iranian Parliament and former negotiator of the nuclear agreement with the international community, Ali Lariyani, has warned that his country could take "serious measures" on its cooperative relationship with the United Nations International Atomic Energy Agency (IAEA) if Europe does not respond to the commitments adopted in the 2015 pact, which is now going through its worst moment.
"We would be willing to review our cooperation protocol with the IAEA, if necessary," said Lariyani at the start of this Sunday's parliamentary session on his relationship with the UN agency, guarantor and supervisor of the agreement. "We have a plan ready in this chamber for this," he added in statements collected by the official Iranian news agency IRNA.
These statements take place after Iran's ambassador to France, Bahram Qasemi, warned Europe on Saturday that any attempt to renegotiate the nuclear agreement with the Islamic Republic, now virtually broken, is an attempt to hide the failure of Brussels to the time to respond to the obligations set by the pact.
Both comments are a response to the decision announced on Tuesday by France, the United Kingdom and Germany to activate the so-called "dispute mechanism", a mixture of protest and call for dialogue after Iran decided to re-enrich uranium in quantities and percentages widely higher than stipulated in the agreement after the death of General Qasem Soleimani earlier this month in an attack by the United States.
The Islamic Republic, on the other hand, says that the European Union has not contributed in the least to strengthen Iranian foreign trade after the reimposition of the U.S. sanctions, which abandoned the agreement in 2018 unilaterally.