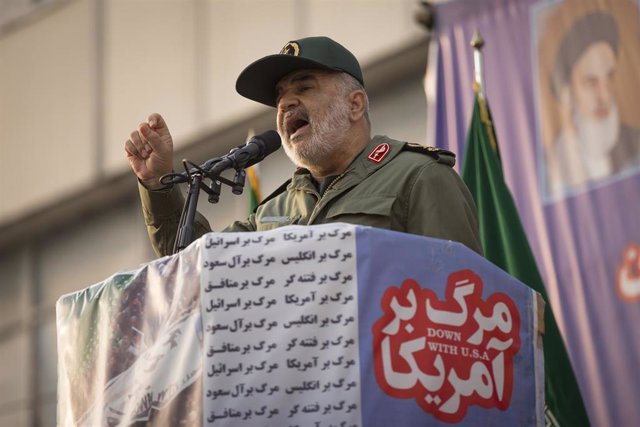 The head of the Revolutionary Guard of Iran, Hosein Salami – Rouzbeh Fouladi / ZUMA Wire / dpa – Archive
MADRID, Jan. 27 (EUROPE PRESS) –
The head of the Revolutionary Guards of Iran, Hossein Salami, has warned Monday that "the lives of US commanders" will not be safe if Washington maintains its threats against the head of the Quds Force, Esmail Qaani.
"If they are still alive, those who have threatened to kill our commanders will regret what they have said," he said. "If they threaten our commanders with terrorism or carry out the threat, the lives of any of their commanders will be safe," he added.
He has also warned against the continuation of pressure measures against the country, according to the Iranian television network Press TV. "If you continue with this game, our response will be totally different from the one given in the past, and your scale will be different too," he said.
"They will face new conditions that they will not be able to manage and control," he said, before stressing that the United States, Israel and their allies "are basically terrorist regimes and are now clearly demonstrating it."
Salami's words have arrived days after the US special envoy for Iran, Brian Hook, indicated that "if (Qaani) follows a similar path of killing Americans, he will find the same fate" as his predecessor, Qasem Soleimani, died in a bombing in Iraq.
Thus, he said that the president of the United States, Donald Trump, "has made it clear for years that any attack against US personnel or interests in the region will receive a decisive response."
Hook stressed that Trump "proved it" in the bombing carried out in early January in Baghdad in which Soleimani and the 'number two' of the Popular Mobilization Forces (FMP) – a coalition of Iraqi pro-government militias supported by Tehran – died. -, Abu Mahdi al Muhandis.
"It is not a new threat. The president has always said that he will act decisively in defense of American interests," he said, in statements given to the Saudi newspaper 'Asharq al Awsat'.
Hook also said he "believes" that "the (Iranian) regime now understands that it cannot attack the United States at its will and go unpunished." "We will make the regime and its partners accountable for any attack against Americans or US interests in the region," he said.
In response, Iranian Foreign Ministry spokesman Abbas Musavi called Hook's threats "State terrorism" and stressed that they "imply that an official is publishing and flagrantly revealing US state terrorism." .
"Now, after the Zionist regime (in reference to Israel), the United States is the second regime that officially announces that it has used resources from its Government and the Armed Forces for acts of terrorism and will continue to do so in the future," he settled.