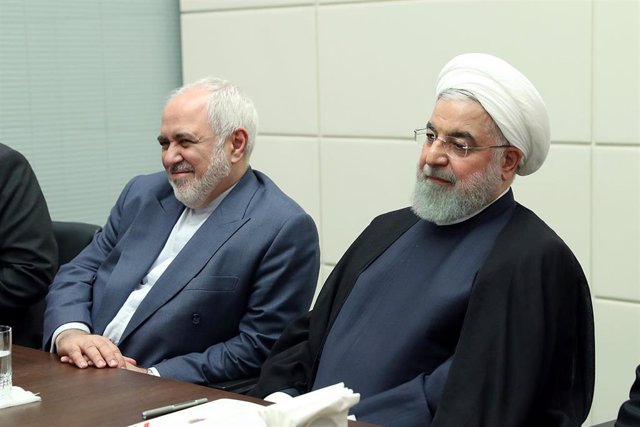 The Foreign Minister of Iran, Mohamad Yavad Zarif (i), and the President of Iran, Hasan Rohani (d) – – / Iranian Presidency / dpa – Archive
MADRID, Dec. 16 (EUROPE PRESS) –
The Government of Iran has affirmed on Monday that it is studying the possibility of carrying out a new reduction of its commitments with the nuclear agreement signed in 2015 following the decision of the United States to abandon it and reimpose sanctions against the country.
The Foreign Ministry spokesman, Abbas Musavi, has indicated that this step, which would be the fifth in this regard, is being weighed, while expressing his desire for European countries to fulfill their commitments, as reported by the agency Iranian IRNA news.
The 2015 agreement reached between Iran and six other countries and signed under the Administration of former US President Barack Obama, restricted the nuclear activities of the Middle East country in exchange for a partial lifting of sanctions.
However, U.S. President Donald Trump decided to withdraw the country from the agreement in 2018 and restore sanctions against Tehran.
After the United States left, the Islamic Republic called on the rest of the signatory countries to focus their efforts on ensuring compliance with the pact in relation to trade relations with Iran and subsequently announced that it would abandon the nuclear commitments envisaged in the pact when considering that the other parties did not cover the absence of the United States.
However, he denounced the lack of action to compensate for the US exit from the agreement and announced that he will take steps to breach part of his commitments unless the situation is reversed.
In this regard, he has insisted at all times that these breaches are contemplated by the 2015 agreement in case some of the parties cease to maintain their commitments and stressed that they are "reversible" if there is a response to their demands. Tehran has said it is open to dialogue if Washington withdraws all sanctions and re-enters the pact.