Iran says it has already regained its calm after protests against rising fuel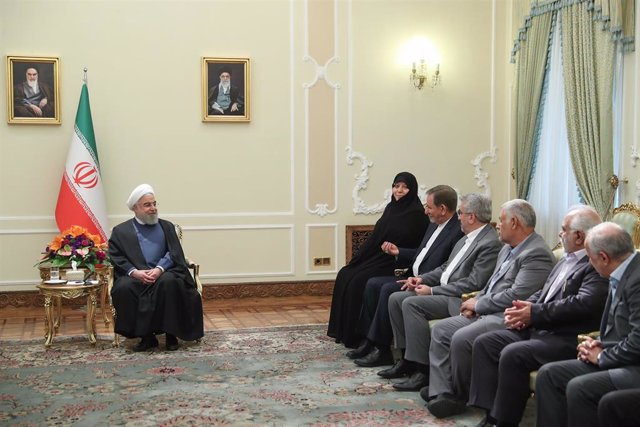 Iran's President Hasan Rohani at a government meeting in Tehran – – / Iranian Presidency / dpa
DUBAI, Nov. 19 (Reuters / EP) –
Iran's regime said Tuesday that the Islamic Republic has already regained its calm after weekend protests against rising fuel and one day after the Revolutionary Guard warned that it would take a "decisive" action if they continued the mobilizations against the Executive.
Several videos posted on social networks skipping the Internet blockade show that protests against the regime continued Monday night in several Iranian cities despite the strong presence of street security forces. Reuters could not verify the authenticity of the videos.
"The calm has been restored throughout the country," said the spokesman for the Iranian judiciary, Gholamhossein Esmaili, at a press conference. According to the authorities, the protests have killed several people killed in clashes, including several members of the security forces and the Police.
The demonstrations began on Friday after the announcement of an increase of at least 50 percent of fuel prices. To date, authorities have detained 1,000 people for public disorders.
Iranian news agency ISNA has reported late Monday that three security forces agents were stabbed near Tehran. Hundreds of young people and Iranian workers have shown their rejection of government management, corruption and the growing gap between poor and rich.
Images spread on social networks show protesters burning portraits of senior officials of the regime and claiming the resignation of the authorities, in addition to clashes between protesters and security forces agents.
The state television network has announced that funerals will be held by the agents killed in the protests and has indicated that "thousands of Iranians" have participated in demonstrations in several cities to "condemn the riots."
The Iranian regime imposed an Internet blockade that is still being maintained this weekend. The Iranian supreme leader, Ayatollah Ali Khamenei, accused foreign powers on Sunday of driving the protests and denounced that the protesters are "gangsters."
On Monday, the Revolutionary Guard warned that it would take a "decisive" action if the mobilizations against the regime continue, as reported by the state press. The Revolutionary Guard and the allied militia Basij killed the lives of 22 people when they suppressed the wave of protests at the end of 2017.
Frustration has been on the rise in Iran over the continuing devaluation of the currency and the rise in commodity prices such as bread, rice and other food since the United States decided to reactivate the sanctions against the Ayatollah regime after leaving the nuclear pact in 2018.