Iran, Russia and China initiate joint maneuvers in waters of the Indian Ocean and the Oman Sea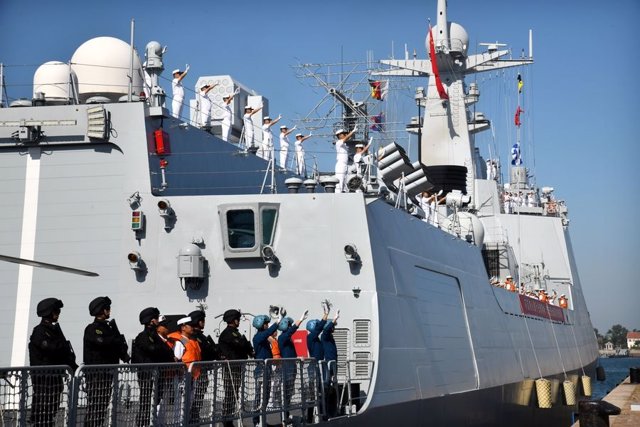 The destroyer 'Xining' before releasing moorings in the port of Quingdao, in China – XINHUA / LI ZIHENG – Archive
MADRID, Dec. 27 (EUROPE PRESS) –
The governments of Iran, Russia and China have started joint maneuvers in Indian Ocean waters and the Oman Sea on Friday, as confirmed by the Iranian Navy, amid rising tensions between Washington and Tehran.
"The 'number two' of the Iranian Navy, Gholamreza Tahani, has indicated that the area enjoys great security and added that this" is a responsibility "of Iran" to the country, the region and the world. "
Thus, it has announced the start of the trilateral maneuvers, with a duration of four days, and has stressed that the purpose of these maneuvers is to strengthen security, as reported by the Iranian news agency Tasnim.
The maneuvers, called 'Marine Safety Belt', will cover an area of ​​17,000 square kilometers and will consist of "several tactical exercises", including the rescue of attacked ships and incidents such as fires on board.
Iran's Foreign Minister, Mohamad Yavad Zarif, has stressed through his Twitter account that these maneuvers demonstrate "the country's broad commitment" to "ensure the safety of vital sea routes."
In this regard, he said that "Iran has long shown its willingness to work with neighboring countries in favor of security in the Persian Gulf", before stressing that the 'Peace Initiative in Hormuz', known as' Initiative HOPE ', "is on the table".
The aforementioned initiative was presented in September by Iranian President Hasan Rohani during his speech before the United Nations General Assembly.
Tensions between Iran and the United States have been on the rise in recent months, especially as a result of Washington's decision to abandon the nuclear agreement signed in 2015 in May 2018 and reimpose sanctions against Tehran.
Likewise, the situation in the region has been marked by recent attacks against refineries in Saudi Arabia, which Riyadh and Washington have blamed on Tehran despite the claim of authorship by the Huthis. Iran has rejected any responsibility.
In this context, the United States recently launched an international maritime operation under the name of International Maritime Safety Building (IMSC) with the stated objective of guaranteeing security in the Persian Gulf, a measure rejected by Iran.
Meanwhile, the French Defense Minister, Florence Parly, announced in November that a French naval base in Abu Dhabi will be the main operations center of the Hormuz Strait Awareness Initiative (EMASOH).