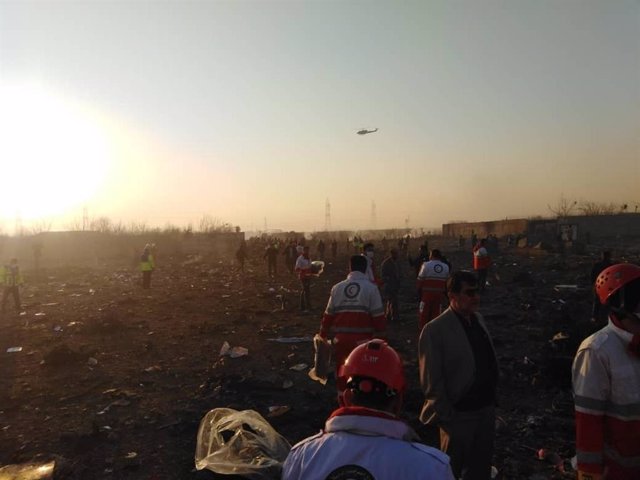 Remains of the Boeing 737 aircraft of Ukraine International Airlines near Tehran – MEDIA LUNA ROJA DE IRÁN
MADRID, 10 Jan. –
The authorities in Iran have given access to Ukraine on Friday to the 'black boxes' and the wreckage of the plane that crashed on Wednesday shortly after taking off from Tehran airport, an event in which the 176 people on board died.
Iran gives access to Ukraine to the 'black boxes' of the plane damaged in Teheacute; n
As reported in a press conference the Ukrainian Foreign Minister, Vadim Pristaiko, has obtained "access to the remains of the Boeing and the place of the incident."
"Now our team has also accessed the 'black boxes' of the plane, confirmed before clarifying that they have obtained the full collaboration of the Iranians, according to information collected by the Sputnik news agency.
The minister said that Ukraine advocates creating an international coalition to investigate the plane crash in Iran. "We want to determine the truth and for that we want, for example, to create an international coalition dedicated to research," he said.
Thus, he stressed that if the hypothesis of the demolition of the plane is confirmed, which has been pointed out by both senior US officials and the Canadian Government, Kiev will demand that those responsible be brought to justice and will request compensation.
The access took place a day after the president of Ukraine, Volodimir Zelenski, said he was confident that aviation experts sent by Ukraine could participate in the analysis of the two 'black boxes' of the plane.
In this regard, Zelenski has called for the avoidance of speculation and has called for waiting for the preliminary report of the commission investigating the incident to be published.
The Iranian authorities have issued invitations to join the international investigation team Canada, Ukraine, Sweden, United Kingdom and Afghanistan, in addition to Boeing for being the manufacturer of the wrecked aircraft. The Office of Research and Analysis (BEA), the agency responsible for aeronautical research in France, has also been invited.
167 passengers and nine crew members were on board the aircraft, with nationalities from Iran, Ukraine, Canada, Germany, Sweden, Afghanistan and the United Kingdom. The 176 occupants of the plane died in the air accident.