Iran crashed plane found in mountains, reports say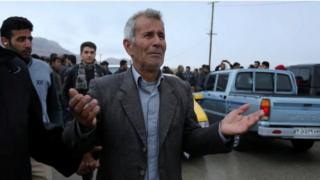 The wreckage of a plane that crashed in Iran on Sunday has been found, local media are reporting.
The Aseman Airlines passenger plane came down in the Zagros mountains on Sunday, and all 66 people on board are feared to have been killed.
Heavy wind and snow forced search and rescue teams to be called off late on Sunday but they resumed the search on Monday.
Officials from the region told news channels rescuers had reached the site.
Both channels – IRINN and English-language Press TV – said they could not confirm the reports independently.
The ATR 72-500 twin-engine turboprop was travelling from Tehran to the south-western city of Yasuj.
Flight EP3704 left Tehran at 04:30 GMT on Sunday, and crashed about an hour later.
The crash site is about 22km (14 miles) from Yasuj, Iranian media reported, in the Mount Dena area, close to the city of Semirom in Isfahan province.
The crashed plane was 25 years old, Iran's civil aviation organisation said.
'Grief and sorrow'
Sixty passengers, two security guards, two flight attendants and the pilot and co-pilot were on board.
Iran's President Hassan Rouhani expressed sympathy for all involved, saying in a statement that the incident brought "great grief and sorrow".
Supreme Leader Ayatollah Ali Khamenei said the accident "saddened the hearts".
Iran has suffered several aviation accidents in recent years and has an ageing aircraft fleet.
The country has struggled to obtain spare parts to maintain its planes in the face of international sanctions imposed to curb its nuclear programme.
Those sanctions have been mostly lifted under a 2015 deal between Iran and the US alongside several other powers.