Iran confirms the death of two of its citizens in the north of the country because of the coronavirus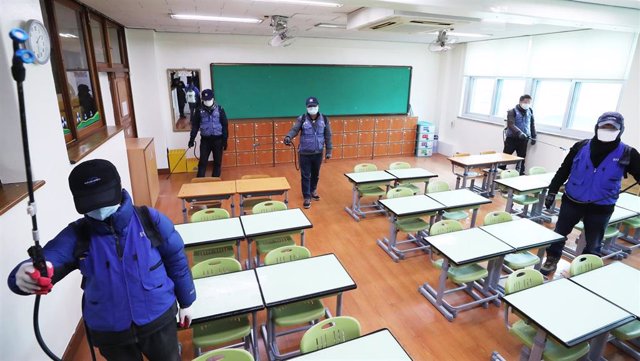 Operators disinfect a classroom in the South Korean city of Suwon. – – / YNA / dpa
MADRID, Feb. 20 (EUROPE PRESS) –
The Ministry of Health of Iran has confirmed on Wednesday the death of two Iranian citizens because of the new coronavirus in the holy city of Qom, in the north of the Persian country.
The rector of the University of Medical Sciences of Qom has explained that these two people tested positive on Wednesday and died the same day due to respiratory problems.
The deceased were a 65-year-old man and a war veteran, who suffered aftermath after being injured by chemical weapons, as detailed by the Iranian news agency Mehr.
China has confirmed on Thursday that those killed by the new coronavirus originated in the city of Wuhan have reached 2,118, while those affected are at 74,576.
Although the epicenter of the coronavirus is in Wuhan and most cases are registered in China, cases have been detected in other countries in Southeast Asia, Europe and America. The World Health Organization (WHO) declared the international health emergency at the end of January and has asked the international community to redouble its efforts.
Common signs of infection include respiratory symptoms, fever, cough and shortness of breath. In more severe cases, the infection can cause pneumonia, severe acute respiratory syndrome, kidney failure and even death.