Iran claims to have identified the bodies of almost all of those killed by the plane's demolition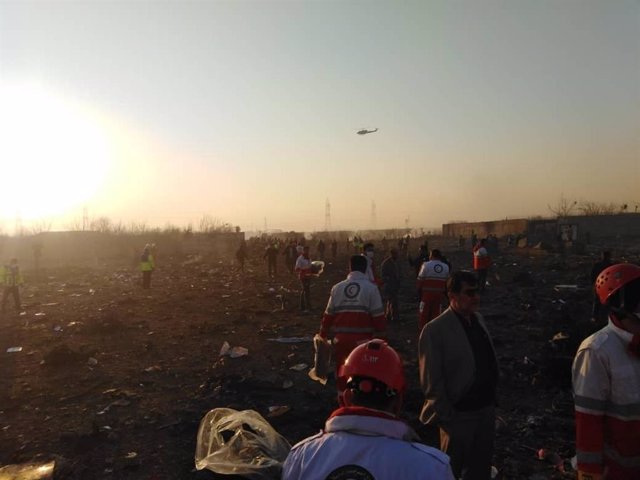 Remains of the Boeing 737 aircraft of Ukraine International Airlines near Tehran – MEDIA LUNA ROJA DE IRÁN
MADRID, Jan. 17 (EUROPE PRESS) –
The Government of Iran has said Friday that it has identified the bodies of almost all 176 fatalities of the demolition of a plane last week shortly after taking off from the capital, Tehran.
"We announce that almost all the bodies have been identified," said Foreign Ministry spokesman Abbas Musavi, who stressed that the authorities work with the countries affected by the tragedy to move the remains.
He also stressed that "this tragic incident should not be used as a tool for profit and political gestures," as reported by the Iranian news agency ISNA.
The Ukrainian authorities have indicated that, of the total fatalities, 82 were Iranians, 63 Canadians, eleven Ukrainians and eleven Swedes. The rest were British and Afghan citizens.
During the day on Thursday, the Government of Ukraine claimed that the bodies of the eleven deceased Ukrainians had been identified and added that they would be transferred to the country during Sunday's day.
The Boeing 737 of Ukraine International Airlines crashed on January 8, an event that resulted in the death of its 176 occupants, but until three days later Iran did not recognize that the aircraft had been shot down by accident.
Iran's President Hasan Rohani on Tuesday proposed the creation of a "special court" to examine the event, assuming that "it is not a normal case" and that "everyone is watching" to see how the Islamic Republic resolves the research.
"Immediately after I was aware that a very painful and unforgivable mistake had been made, I ordered the officials to inform the public," he said, before stressing that "it is an enormously bitter incident, extremely difficult for people to accept" .
Thus, he indicated that "even if the device had crashed due to technical problems, it would have been a painful incident." "After it was confirmed that a human error led to this tragedy, it hurt the public sentiment further," he said.
Rohani also stressed that "not only is the person who pressed the button guilty, there are others involved," as reported by the Iranian television network Press TV. "I want this matter to be explained honestly to people," he settled.
During these last days, the Iranian authorities have suggested that the incident stems from the growing tension in the area due to the political and military pulse with the United States. Washington and Tehran crossed attacks in the week before the demolition, which has also led to a reduction in air connections with the Iranian capital.