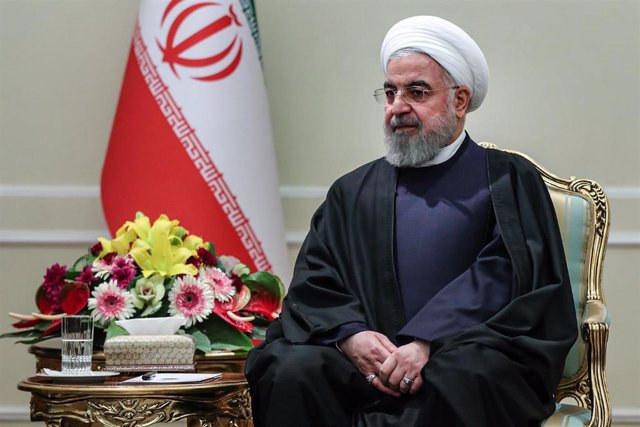 Hasan Rohani, President of Iran – – / Iranian Presidency / dpa
MADRID, Dec. 30 (EUROPE PRESS) –
Iran has described as "terrorism" the attack on Sunday by US forces against an Iraqi paramilitary group supported by Tehran in Iraq and Syria in which, according to the Pentagon, 25 militiamen died.
"The deplorable military aggression of the United States against Iraqi territory and forces is a clear sign of terrorism," Iran's Foreign Ministry spokesman Abbas Musavi, who has not referred to Syria, said Monday.
In this regard, he has urged Washington to respect the independence, sovereignty and territorial integrity of Iraq and to cease its interference in this country. The Iranian spokesman has stressed that "such assaults, once again, disprove the American claim that it fights the Islamic State terrorist group in Iraq."
In fact, Musavi added, according to the Mehr news agency, "The United States has attacked the positions of forces that have been fighting terrorists and inflicting heavy damage on them in recent years."
The Foreign spokesman has reiterated that Washington demonstrates its support for terrorism, while transferring Tehran's support to Iraq's independence and territorial integrity, as well as solidarity to the families of the victims.
The US Secretary of State, Mike Pompeo, said on Sunday that the country "will not tolerate" that Iran takes actions "that put Americans in danger" after the United States has carried out an attack in Iraq and Syria against Kataib Hezbollah , an armed group related to Iran.
In parallel, Pompeo has reported that the president of the United States, Donald Trump, has been informed by his main national security advisers about the attack in question, which has left at least 25 dead and 55 injured.
For his part, US Secretary of Defense Mark Esper has said the bombings have been "successful" and that officers are discussing other options with Trump.
Among those killed in the attack are at least four commanders of the group. Kataib Hezbollah is part of the Popular Mobilization Forces (FMP), a coalition composed mainly of Shia militias allied with the Iraqi Army.
Specifically, three targets have been bombed in Iraq and two in Syria where there were weapons stores and command centers of the group used by Kataib Hezbollah to plan and carry out attacks against coalition forces, Washington said.