Iran attacks Al Asad air base in Iraq with missiles with US troops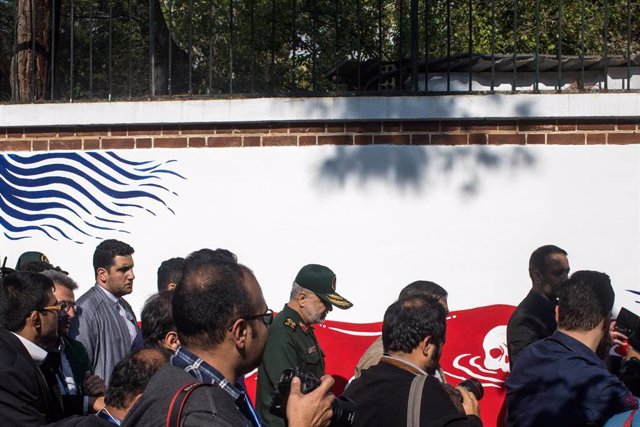 File image of the head of the Revolutionary Guards of Iran, General Hosein Salami, in an act before the former US Embassy in Tehran – Arash Khamooshi – Archive
The Pentagon confirms the attack and ensures that they will take "all necessary measures" to protect their personnel
Al Asad air base in the Iraqi province of Anbar, which houses US troops, has suffered a missile attack early Wednesday, several local media reported.
The Iranian Revolutionary Guard Corps has assumed responsibility for the attack, which would have occurred in retaliation for the death of Iranian General Qasem Soleimani, who died in an American attack at the airport in the Iraqi capital, Baghdad, has picked up the chain of Iranian television Press TV.
The Pentagon, on the other hand, has also confirmed the attack, carried out with "a dozen missiles," according to a statement from US Defense Department spokesman Jonathan Hoffman, who said that "it is clear that the missiles have been launched since Iran".
In this regard, he has indicated that the Department of Defense "has taken all appropriate measures to safeguard" its personnel and that the bases that house US troops in Iraq have been on "maximum alert" in reference to Tehran's claims to attack to Washington in response to the death of Soleimani.
It has also specified that, as the situation is evaluated, "all necessary measures will be taken to protect and defend United States personnel."
Previously, White House press secretary Stephanie Grisham has confirmed that the United States is "aware" of the attack and has assured that the president, Donald Trump, has been "informed, is monitoring the situation closely and consulting with the national security team, "as indicated through Twitter.