Iran announces the end of restrictions on uranium production and enrichment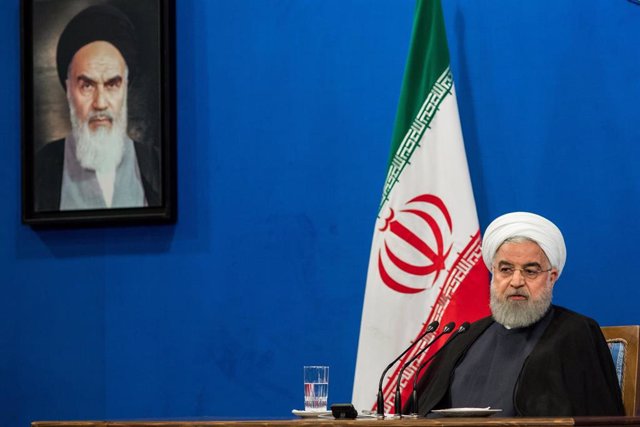 Hasan Rohani and a portrait of Ruholá Khomeini – Arash Khamooshi – Archive
MADRID, Jan. 5 (EUROPE PRESS) –
The Iranian Government announced on Sunday the end of the restrictions on the production and enrichment of uranium agreed in the nuclear agreement signed in 2015 in a new and almost definitive withdrawal from its commitments, accelerated on this occasion in retaliation for the death of General Qasem Solemaini last Friday during an attack by the United States in the capital of Iraq, Baghdad.
"The Islamic Republic of Iran will put an end to its final limitations in the nuclear agreement. Therefore, Iran's nuclear program will remove all restrictions on its uranium production, including the percentage of enrichment and the amount of enriched uranium, as well as the cuts to his research and development, "according to a statement from the National Security Council of Iran, issued at the end of his emergency meeting this Sunday, and picked up by the American newspaper 'The New York Times'.
According to the same statement, the Iranian Government reiterates its commitment to the International Atomic Energy Agency and promises to re-comply with the terms of the nuclear agreement if the United States withdraws all existing sanctions and guarantees its interests.
This Saturday, the former Iranian military commander and current secretary of the so-called Council of Discernment, one of the most important institutions in the country, Moshen Rezaei, had recommended that the authorities announce as soon as possible a further reduction of the commitments adopted by the Islamic Republic on The nuclear agreement
"It is vital that we confirm our fifth reduction in the commitments made to the nuclear agreement as soon as possible until we give (the President of the United States, Donald) Trump the answer he deserves," Rezaei wrote on his Twitter account.
The United States decided to restore sanctions against Iran in 2018 after its unilateral withdrawal from the 2015 Comprehensive Joint Action Plan (PIAC) nuclear agreement. In response, and after denouncing the lack of help from other signatory countries to circumvent the economic punishment imposed by The United States, Iran decided last July to initiate a gradual disconnection of the various commitments adopted in the pact.