Ir á n's regime rejects the balance of NGOs and ensures that there are "many fewer" dead in the demonstrations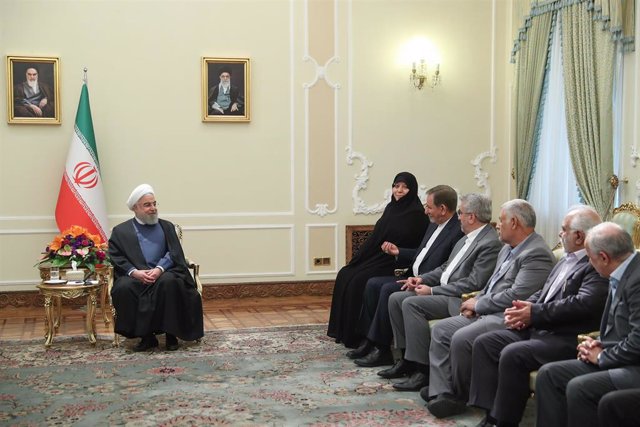 Iran's President Hasan Rohani at a government meeting in Tehran – – / Iranian Presidency / dpa
BERLIN, Dec. 3 (DPA / EP) –
The spokesman of the Judicial Power of Iran, Gholam Hosein Ismaili, said on Tuesday that the latest demonstrations against the regime resulted in "many fewer deaths" than the 208 deceased denounced by the non-governmental organization Amnesty International in a report this week.
"Enough fewer people have died," Ismaili said in statements published by the Iranian news agency Fars. On Monday, Amnesty International said in a report that the latest demonstrations against the regime resulted in at least 208 people killed.
According to estimates not confirmed by the authorities, the protests would have resulted in more than 1,000 people detained, including 180 alleged leaders, some of whom could face the death penalty.
The Government of Iran temporarily blocked the Internet during the protests to prevent the dissemination of images of the demonstrations and, since then, the restrictions have gradually been lifted. The spokesman for the Iranian judiciary has rejected the death balance published by the media and said that "many of the alleged victims are still alive."
"Many people were shot by armed protesters and not by security forces," he argued. Ismaili has said that there are "300 people arrested in Tehran" although he has refused to take stock of fatalities in protests against the authorities of the Islamic Republic.
For his part, Mahmoud Sadeghi, an Iranian politician, has assured from his Twitter account that "if the authorities do not publish the exact number of dead, injured and detained" in the protests, "Parliament will disseminate its statistics." In this regard, he said that these data are based on reliable information provided by Iranian citizens.
Amnesty International has pointed out that the balance of mobilizations could be even greater than those 208 fatalities. Families of victims have received threats and have been warned not to talk to the media or celebrate funerals. In some cases, according to Amnesty International's version, the bodies have been handed over to family members after they were extorted to pay for the bodies.