Ir á n weighs thirteen scenarios to avenge the death of Soleimani, all of them a "nightmare" for the US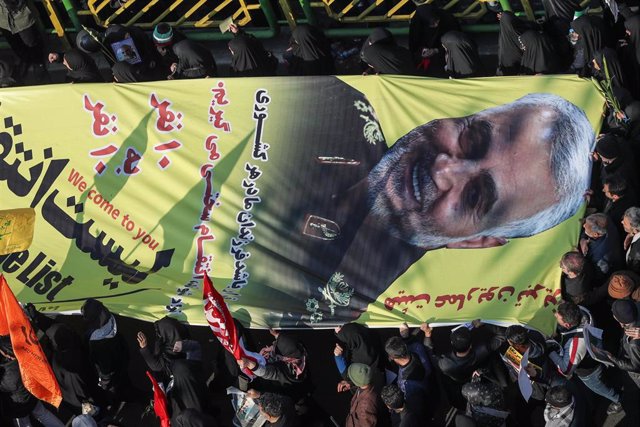 Funeral by Qasem Soleimani in Tehran – Saeid Zareian / dpa
MADRID, Jan. 7 (EUROPE PRESS) –
Iran is weighing up to thirteen different scenarios for its revenge for the death of General Qasem Soleimani in a US attack in Iraq, as indicated on Tuesday by the secretary of the Iranian Supreme National Security Council, Ali Shamjani, who has clarified that even the weakest of them will be a "historical nightmare" for the United States.
"The operation to avenge the blood of the great hero of the Iranian nation will not be unique," Shamjani said, according to the Iranian news agency Tasnim. "Even the weakest of the thirteen scenarios of revenge would be a historic nightmare for the United States," he stressed, not wanting to go into details.
"If US forces do not leave our region vertically on their own feet, then we will ensure that their bodies leave horizontally," he said.
The officer has assured that Iran is observing US barracks and bases in the region and is informed about the number of troops and equipment they have. "The Americans know that they are vulnerable, they have changed their tactics by concentrating their forces and centralizing them in their bases," he said, according to the Mehr agency.
Asked about the possibility of the United States waging war with Iran in response to Tehran's reaction, Shamjani has stressed that "this is not the first time we have faced such stupid threats from cowboys."
"The Americans have been looking for their lost interests in Iran for 40 years and are seeking war," he added, rejecting "empty threats" by the United States. "The message of the Islamic Republic is clear: The United States has murdered a national hero and we cannot remain indifferent," he said.
Iran promised the same Friday through the mouth of its supreme leader, Ayatollah Ali Lariyani, a "hard revenge" for the death of Soleimani, head of the Quds Force of the Iranian Revolutionary Guard, in a US bombing in Baghdad in which also the 'number two' of the Iraqi Popular Mobilization Forces (FMP), Abu Mahdi al Muhandis, died.
On the same line, the head of the Revolutionary Guard, Lieutenant General Hosein Salami, who participated in the massive funeral of Soleimani in Kerman, his hometown, was pronounced on Tuesday.
"We will take revenge," he assured the congregates, after praising Soleimani and his role in the last two decades in Iran. According to Tasnim, the head of the Revolutionary Guard has assured that there will be a decisive revenge against the United States that will make Washington regret its action.