Ir á n says that a "technical defect" caused the plane crash Boeing 737 that has left 176 dead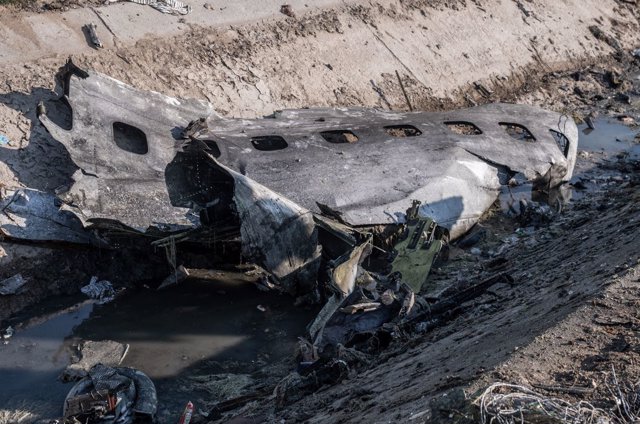 A piece of the plane's fuselage at the place where the accident occurred – DPA
TEHERAN, Jan. 9 (DPA / EP) –
Iran's Minister of Transportation, Mohamed Eslami, has said that a "technical defect" caused the crash of a Boeing 737 aircraft of a Ukrainian airline that on Wednesday killed 176 people shortly after takeoff from Tehran International Airport .
The head of Iranian Transportation has rejected speculation that the accident is "suspicious" and stressed that the incident was caused by a technical failure of the aircraft, as reported by the Iranian news agency Isna. "The plane caught fire due to a technical defect that caused this accident," Eslami said.
The accident of a Ukranian International Airlines Boeing 737 passenger plane ended the lives of 176 people on board when the aircraft crashed on Wednesday shortly after takeoff from the Imam Khomeini International Airport in Tehran.
The two 'black boxes' of the aircraft, the parameter recorder and the cockpit voice recorder, have been found and are being analyzed by Iranian aviation experts. The Tehran Prosecutor's Office has confirmed that the mortal remains of all the people traveling aboard the plane have been handed over to forensics.
Both the 'black boxes' and the mortal remains of the victims of the incident will be handed over to the Ukrainian authorities, according to the Iranian Transport Minister.