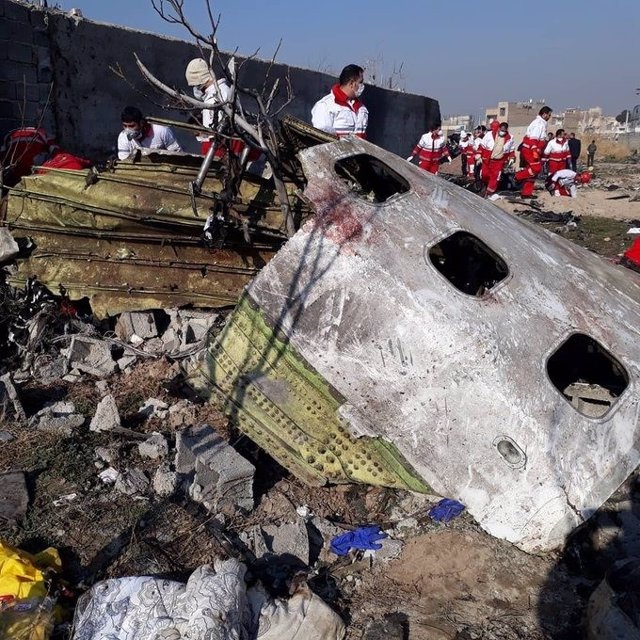 Remains of the damaged Ukranian International Airlines Boeing 737 plane near Tehran shortly after taking off from Tehran airport – IRAN TWITTER HALF RED MOON
He underlines the commitment to the victims and says that he will study the role that the war with the US has played in the "incident"
A spokesman for the Judicial Branch of Iran announced Tuesday that "several people" have been arrested in connection with the demolition of the Boeing 737 plane from Ukraine International Airlines that killed 176 people on January 8, the agency said. Iranian news IRNA.
Ir á n announces that he has arrested "several people" for the demolition of the Ukrainian plane
"Some people have been arrested in connection with the incident. The investigation is in its first stage," said Iranian Judiciary spokesman Gholamhosein Ismaili at a press conference in Tehran.
On January 8, a Boeing 737 aircraft from Ukraine International Airlines crashed shortly after taking off from Imam Khomeini International Airport. At first, the authorities of the Islamic Republic said that the aircraft had suffered an accident but on January 11 they recognized that it had been shot down by a missile launched by a human error by the Iranian Revolutionary Guard.
The spokesman has said that special committees have been created in the Armed Forces to investigate the demolition of the plane and has indicated that the investigations are in a preliminary phase. The special committees, as indicated, will integrate military experts, aeronautical authorities, experts in electronic warfare and technical analysis of 'black boxes'.
In addition, he has assured that one of the 'black boxes' of the downed plane will be sent to France so that the information it stores can be accessed, with the participation of aeronautical experts from Iran and Ukraine.
Ismaili has said that the Iranian authorities are committed to the victims of demolition, with "the discovery of the truth" and with justice being done for what happened and all "responsibilities" are determined.
He also said that "what role the US war has played in the incident" will be investigated. Finally, the spokesman for the Iranian judiciary has stressed the importance of knowing the contents of the two 'black boxes' of the wrecked plane.